NASA engineers are developing climbing legs for the International Space Station's robotic crewmember Robonaut 2 (R2), marking another milestone in space humanoid robotics.
The legless R2, currently attached to a support post, is undergoing experimental trials with astronauts aboard the orbiting laboratory. Since its arrival at the station in February 2011, R2 has performed a series of tasks to demonstrate its functionality in microgravity.

These new legs, funded by NASA's Human Exploration and Operations and Space Technology mission directorates, will provide R2 the mobility it needs to help with regular and repetitive tasks inside and outside the space station. The goal is to free up the crew for more critical work, including scientific research.
"NASA has explored with robots for more than a decade, from the stalwart rovers on Mars to R2 on the station," said Michael Gazarik, NASA's associate administrator for space technology in Washington. "Our investment in robotic technology development is helping us to bolster productivity by applying robotics technology and devices to fortify and enhance individual human capabilities, performance and safety in space."
Once the legs are attached to the R2 torso, the robot will have a fully extended leg span of 9 feet, giving it great flexibility for movement around the space station. Each leg has seven joints and a device on what would be the feet called an end effector, which allow the robot to take advantage of handrails and sockets inside and outside the station. A vision system for the end effectors also will be used to verify and eventually automate each limb's approach and grasp.
NASA engineers have built the legs and R2 will be receiving them early next year. The new legs are designed for work both inside and outside the station, but upgrades to R2's upper body will be necessary before it can begin work outside the space station.
Technologies developed for Robonaut have led to new robotic devices for future spaceflight that also have direct applications here on Earth. For example, NASA is developing a robotic exoskeleton that could help astronauts stay healthier in space and also aid people with physical disabilities.
R5, next in NASA's Robonaut series of robots, will debut later this month when it competes in the Defense Advanced Research Project Agency's (DARPA) Robotics Challenge. During the challenge, robots will demonstrate capabilities to execute complex tasks in dangerous, degraded, human-engineered environments. Competing teams are expected to focus on robots that can use standard tools and equipment commonly available in human environments, ranging from hand tools to vehicles, with an emphasis on adaptability to tools with diverse specifications.
The International Space Station serves as a test bed for future technologies that will be vital to human exploration as NASA explores asteroids and Mars. NASA's Space Technology Program is innovating, developing, testing and flying hardware for use in NASA's future missions.
For more information on the DARPA Robotics Challenge, visit: http://go.usa.gov/We9W
For information about Robonaut, visit: http://www.nasa.gov/robonaut
For more information about NASA's Space Technology Mission Directorate, visit: http://www.nasa.gov/spacetech
Featured Product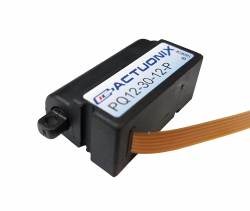 The PQ12-R series of linear servos are the smallest affordable linear servo on the market today. Small enough to fit inside a tic tac box, it's very powerful with a maximum force of over 11lbs. It operates as a direct plug-and-play replacement for standard rotary servos, using the same standard 3 wire connector. Regardless of how you drive your servos, be it with an RC receiver, an Arduino board, or a VEX micro-controller, the PQ12-R servo will function in place of a regular servo, but with the added benefit of providing linear motion. They're available in a 20mm stroke coupled with gear ratio options of 30:1, 63:1 and 100:1 cover a large variety of applications. Our PQ12 is popular used in a variety of robotics applications, medical devices, radio control and 3D printable bionic hands. Our PQ12 is proudly designed in Canada by our in-house team of engineers and thoroughly tested before leaving our facility.