February 13-14, 2014 ECC Sokolniki in Moscow will host Russia's first 3D Print Expo.
3D Print Expo will become a major industry event in the field of 3D printing, bringing together scientists, experts, developers and suppliers, as well as lots of other people interested in development of these technologies.

Exhibition participants are:
• manufacturers of personal 3D printing systems;
• manufacturers of industrial 3D printers;
• developers of software for 3D printers;
• manufacturers of spare parts, materials and accessories for 3D printing;
• 3D printing marketers in general.
The event will be of interest for artists, jewelry designers, software developers, business owners, venture capitalists, marketers, project managers, designers, culinary masters, doctors and many others.
Business day
First day of the exhibition - 13 February 2014 - is Business day for professionals and executives - with full access to all events throughout the exhibition day.
This day the doors are open for business owners, venture capital funds, top-managers, marketing experts and project managers, software developers and other representatives of companies interested in application of 3D technologies in their business.
Visitors of the first day of exhibition will be able to meet experts of this industry, learn about the possibilities of application of three-dimensional printing in business, establish useful and interesting business contacts, and get a number of other advantages.
Visitors day
February 13-14 everybody interested will be able to attend the exhibition. Exhibition attendees will be demonstrated capabilities of 3D printers work - scanning and printing of various items used in daily life.
There will be special offers for students who have preregistered on website and have student card.
Business program of the exhibition will complement the two-day (13-14 February) thematic conference with topics about development of three-dimensional printing and its application in business.
Alongside the exhibition, February 13 and 14 in the territory of convention and exhibition center "Sokolniki" Chocolate Festival will run from 14:00 until closing exposure. Chocolate Festival will give an opportunity to learn about chocolate printing technology and manufacturing.
Do not miss your chance to learn about revolutionary technology that will change this century in the nearest future.
Join 3D Print Expo!
Contact information:
www.3d-expo.ru
tel. : +7 (495) 212-11-28
e-mail: client@3d-expo.ru
Featured Product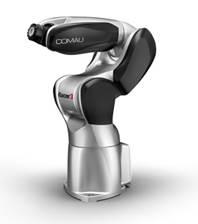 Racer3 is a powerful, high-speed, 6-axis articulated robot featuring a payload of 3kg and a reach of just 630 mm. Built from high-strength aluminum, the newest innovation in Comau robotics is lightweight and can be easily mounted on benches, walls, ceilings or on inclined supports. The third robot within the award-winning Racer family, Racer3 is Comau's response to the growing demand for fast, cost-effective robotic automation within small to medium-sized enterprises and emerging countries. Racer3 is intended for general industry use to increase productivity and reduce overall costs by automating industrial applications. It combines field-proven technology and enhanced dexterity with a keen focus on safety, design and product aesthetics. With a streamlined design and brushed metal exterior, the new powerhouse of a robot combines beauty and speed together with absolute precision and repeatability. Primary applications include assembly, material handling, machine tending, dispensing and pick & place.