The Twin Robot Xbar (TRX) is the fastest robot-based solution available for loading and unloading presses, without the need for press modification.
· Flexible robot-based solution: Output rate of up to 16 parts per minute on tandem press lines

· Trouble-free change over: Equipped with quick tool change system
· User-friendly programming interface: Runs on StampWare platform
AUBURN HILLS, Mich. (December 12, 2013) - ABB Robotics, which has been developing innovative robot-based press automation solutions for nearly two decades, has introduced the Twin Robot Xbar (TRX), a fast and flexible parts transfer system with an output rate of up to 16 parts per minute for big panels in tandem press lines. The TRX can be retro-fitted to existing press lines, setting it apart from similar systems which require additional space between the upright and bolster.
"The TRX raises the bar in press automation, providing end-users increased speed and greater flexibility with the proven robotic technology that has served them well," said Enrique Pano, press automation manager, ABB Robotics, North America. "Customers benefit from improved performance with familiar technology, maintaining valuable consistency in terms of availability, spare parts, service, support and programming knowledge."
Utilizing two robots optimally distributes the total power and load, while minimizing the inertia in demanding press automation applications. With ABB's MultiMove™ technology a single robot cabinet controls all ten TRX axes, comprised of two four-axis robots plus two crossbar axes, simplifying programming without adding to the system footprint.
The system can accommodate a wide range of crossbar types and lengths to assure the right fit for different line configurations. Crossbar changes for new production have been fully automated on the press bolster or at the inter-press.
"Cost efficient and reliable, the TRX can tilt in three different axes and allows dynamic reconfiguration of part distance when moving double parts (side-shifting), eliminating the need for additional actuators," adds Pano.
The TRX runs on StampWare, a proprietary software package from ABB designed to facilitate interaction between operator and press cell. Available on the robot FlexPendant for maximum sim­plicity, flexibility and cost effectiveness, StampWare includes a graphical programming wiz­ard that helps operators easily program the robots with­out having to master the programming language. It is currently running in more than 1,000 robots worldwide.
Featured Product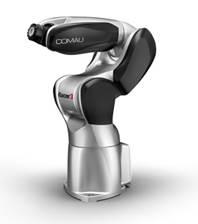 Racer3 is a powerful, high-speed, 6-axis articulated robot featuring a payload of 3kg and a reach of just 630 mm. Built from high-strength aluminum, the newest innovation in Comau robotics is lightweight and can be easily mounted on benches, walls, ceilings or on inclined supports. The third robot within the award-winning Racer family, Racer3 is Comau's response to the growing demand for fast, cost-effective robotic automation within small to medium-sized enterprises and emerging countries. Racer3 is intended for general industry use to increase productivity and reduce overall costs by automating industrial applications. It combines field-proven technology and enhanced dexterity with a keen focus on safety, design and product aesthetics. With a streamlined design and brushed metal exterior, the new powerhouse of a robot combines beauty and speed together with absolute precision and repeatability. Primary applications include assembly, material handling, machine tending, dispensing and pick & place.