Adept Technology, Inc., a leading provider of intelligent robots, autonomous mobile solutions and services, today announced a partnership agreement with Harpak-ULMA Packaging, LLC, an innovative packaging equipment and systems integrator, naming Harpak-ULMA a primary and secondary food packaging partner.
Selected for their advanced technical capabilities and knowledge base, Adept's preferred food packaging partners define, configure, and deliver fully integrated solutions using Adept robots, software, and grippers to increase speed and efficiency on food processing lines.

"Automated primary food packaging necessitates use of equipment that meets stringent requirements in every aspect, from gentle material handling at high speeds to compliance with strict sanitation requirements," said Charles Harlfinger, Harpak-ULMA CEO. "We recognize Adept's strength in providing inventive, dependable automation products that meet these demands. We believe Adept's capabilities fit well with our goal of delivering to our customers the most effective, fully integrated food packaging solutions available."
"Adept welcomes Harpak-ULMA as a new primary and secondary food packaging partner," said Merrill Apter, Adept vice president of North America sales. "From our 'SoftPIC' silicone food grippers to our USDA-accepted parallel robot system, Adept provides a set of food-focused tools that are ideal for challenging, high-throughput applications and adaptable to flexible production requirements. We thank Harpak-ULMA for their support in the USDA qualification of the 'Quattro' robot. We look forward to working with them now as a preferred partner to enable state-of-the-art automated packaging systems that enhance food processors' efficiency and yields."
Adept has developed a host of hardware and software products for use in a food packaging environment. The company's "Quattro s650HS" is the only high-speed parallel robot to receive USDA acceptance for meat and poultry processing. This Quattro robot is IP qualified (IP-66 protection for the robot, IP-67 protection for the platform). Additionally, Adept's "SoftPIC" grippers and graspers enable fast, gentle handling of non-rigid, wet, and irregularly shaped food products-tasks that were previously possible only with manual handling.
About Harpak-ULMA Packaging, LLC
Harpak-ULMA Packaging is a leader in completely automated packaging solutions to the food, medical device, personal care and industrial industries. For over 20 years Harpak-ULMA has worked closely with their customers to engineer superior, intelligent primary and secondary solutions. The company is committed to assist the customer in becoming more competitive by becoming more efficient. Their successful installed base speaks for itself. Harpak-ULMA is equipped to handle the most complicated automation requirements in the field today and their access to global solutions makes Harpak-ULMA a forerunner in packaging technologies today. Harpak-ULMA specializes in fully automated packaging lines, tray sealing, flow wrap, skin packaging, thermoforming, facilities packaging automation, cartoning, case packing, and so much more. Their depth of experience in creating and developing complete systems is far beyond any others in the industry. For more information about Harpak-ULMA, visit http://www.harpak-ulma.com/.
About Adept Technology, Inc.
Adept is a global, leading provider of intelligent robots, autonomous mobile solutions and services that enable customers to achieve precision, speed, quality and productivity in their assembly, handling, packaging, testing, and logistical processes. With a comprehensive portfolio of high-performance motion controllers, application development software, vision-guidance technology and high-reliability robot mechanisms with autonomous capabilities, Adept provides specialized, cost-effective robotics systems and services to high-growth markets including medical, electronics, food and semiconductor; as well as to traditional industrial markets including machine tool automation and automotive components. More information is available at www.adept.com.
Featured Product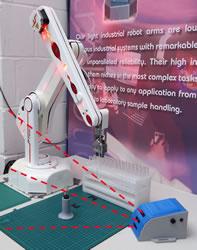 The 6-axis version of the R17HS high speed variant of the R17 robot is now available. As is our policy the 6th axis is an optional bolt-on module. At the same time we have made it even faster and new software eliminates shake and greatly improves repeatability as this video shows. Please see https://www.youtube.com/watch?v=3wG0MeiJ-yE. The video would seem to imply a repeatability of 0.01mm but we are sticking with 0.2mm in the spec. The motor specialist was able to tune the motors from the other side of the pond. My first reaction when we put power on and entered the first commands was to jump back in amazement (and maybe an expletive). Tip speed is now 3m/s; that's 3 times as fast as its nearest competitor yet costs half the price. I love it when a plan comes together.