Prominent trade publication recognizes welding-equipment leader for innovation and efficiency in Cleveland HQ manufacturing operations.
Cleveland, Ohio December 17, 2013

Cleveland welding industry leader Lincoln Electric has been named Top Plant of 2013 by Plant Engineering magazine.
Plant Engineering's Top Plant award program honors the outstanding manufacturing facilities in North America. Top Plant winners are selected for standing out as the best in production, maintenance, productivity and safety, and demonstrate what the publication calls a "commitment to quality in all areas of operations."
"Safety, quality, customer delivery and teamwork," said Doug Lance, Vice President, Operations. "That's just a part of what we focus on here. It's been exciting to see the factory floor change dramatically over the last several years, and we are working hard to launch a number of projects in the next 24 months as well."
Lincoln Electric's Cleveland-based headquarters' machine division manufacturing facility, this year's only honoree, is profiled both in the publication's December 2013 issue and online. Company executives will formally accept the award in March during the Engineering Awards in Manufacturing ceremony in Chicago.
"For me, it's all about putting the right people in the right place," said George Blankenship, Senior Vice President, Lincoln Electric and President, Lincoln Electric North America. "Then, we turn them loose to manage the operation, evaluate emerging processes or equipment and select the right solutions that will keep our operations efficient and competitive. I'm very pleased our machine division team was recognized for their efforts."
First presented in 2004, Plant Engineering's Top Plant program has put Lincoln Electric in good company. Past honorees include Pfizer Global Supply, Masco Cabinetry, Toyota Industrial Equipment Manufacturing, Daimler Chrysler, BMW and Siemens Industry Inc., to name only a few.
Lincoln Electric is the world leader in the design, development and manufacture of arc welding products, robotic arc welding systems, plasma and oxyfuel cutting equipment and has a leading global position in the brazing and soldering alloys market. Headquartered in Cleveland, Ohio, Lincoln has 45 manufacturing locations, including operations and joint ventures in 19 countries and a worldwide network of distributors and sales offices covering more than 160 countries. For more information about Lincoln Electric and its products and services, visit the Company's website.
Members of the media may access this release, register for RSS communication and more at newsroom.lincolnelectric.com.
Featured Product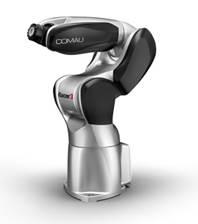 Racer3 is a powerful, high-speed, 6-axis articulated robot featuring a payload of 3kg and a reach of just 630 mm. Built from high-strength aluminum, the newest innovation in Comau robotics is lightweight and can be easily mounted on benches, walls, ceilings or on inclined supports. The third robot within the award-winning Racer family, Racer3 is Comau's response to the growing demand for fast, cost-effective robotic automation within small to medium-sized enterprises and emerging countries. Racer3 is intended for general industry use to increase productivity and reduce overall costs by automating industrial applications. It combines field-proven technology and enhanced dexterity with a keen focus on safety, design and product aesthetics. With a streamlined design and brushed metal exterior, the new powerhouse of a robot combines beauty and speed together with absolute precision and repeatability. Primary applications include assembly, material handling, machine tending, dispensing and pick & place.