Stryker Corporation announced today the completion of its previously announced acquisition of MAKO Surgical Corp., a pioneer in the advancement of robotic arm assisted surgery in orthopaedics.
"We're excited to welcome MAKO into our organization and combine their expertise in robotic arm assisted surgery with Stryker's innovations in joint reconstruction to further advance the growth of this compelling technology. The long-term potential offered by this technology platform holds the promise of transforming reconstructive surgery, increasing patient satisfaction and enhancing the experience for surgeons and hospitals," said Kevin A. Lobo, President and Chief Executive Officer.

As indicated in the September 25, 2013 press release, the transaction is expected to be dilutive to Stryker's adjusted earnings per share excluding acquisition and integration-related charges by approximately $0.10 - $0.12 in the first full year, neutral in year two and accretive thereafter. Additionally, the transaction is expected to be slightly accretive to adjusted cash earnings per share, excluding acquisition and integration-related charges in the first full year.
Stryker is one of the world's leading medical technology companies and is dedicated to helping healthcare professionals perform their jobs more efficiently while enhancing patient care. The Company offers a diverse array of innovative medical technologies, including reconstructive, medical and surgical, and neurotechnology and spine products to help people lead more active and more satisfying lives. For more information about Stryker, please visit www.stryker.com.
Featured Product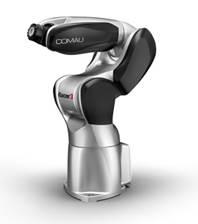 Racer3 is a powerful, high-speed, 6-axis articulated robot featuring a payload of 3kg and a reach of just 630 mm. Built from high-strength aluminum, the newest innovation in Comau robotics is lightweight and can be easily mounted on benches, walls, ceilings or on inclined supports. The third robot within the award-winning Racer family, Racer3 is Comau's response to the growing demand for fast, cost-effective robotic automation within small to medium-sized enterprises and emerging countries. Racer3 is intended for general industry use to increase productivity and reduce overall costs by automating industrial applications. It combines field-proven technology and enhanced dexterity with a keen focus on safety, design and product aesthetics. With a streamlined design and brushed metal exterior, the new powerhouse of a robot combines beauty and speed together with absolute precision and repeatability. Primary applications include assembly, material handling, machine tending, dispensing and pick & place.