Local entrepreneur Guy Cefalu and his company GEN2 ROBOTICS, designs and manufactures drones for precision agriculture and more.
The technology to send small unmanned aerial vehicles, better known as drones, equipped with high resolution cameras and sensors into the American airspace is closer than one would think.

In fact, this technology could be manufactured in Windham NH, as soon as next spring. A Windham NH, entrepreneur - Guy Cefalu and his company GEN2 ROBOTICS will be taken up residency in southern NH.
The company's plan, according to founder and CEO Guy Cefalu, is to deliver systems for use in industries other than the military.
The precision agriculture and public safety sectors would all benefit from the efficiency and low cost of GEN2 ROBOTICS drones - explained the company's chief executive officer, Guy Cefalu.
Drones can revolutionize those industries, especially agriculture, according to Guy. Using a drone instead of manned vehicles, which can cost companies as much as $2000 per hour could increase cost-efficiency in activities like crop inspections, water irrigation, and more.
Other uses of this technology include; archaeology, inspection, law enforcement, disaster recovery, and search & rescue.
The technology is already available and ready to lunch as soon as the FAA sets rules and standards for autonomous unmanned aerial vehicles by 2015, Guy said. At the moment, these systems can be used under the FAA advisory circular 91-57, for model aircraft. In addition, farmers may operate an unmanned aircraft over their own property for personal use … Guidelines for the operation of model aircraft, such as those published by the Academy of Model Aeronautics, may be used by farmers as reference for safe UAS operations now.
With a high percent annual growth rate, drones are the fastest-growing segment of the world aerospace industry, according to Guy.
"This is the highest growth area," he said. "We have something that the market needs that is unique. The possibilities are endless Guy said.
For more information contact;
GEN2 ROBOTICS, LLC
Att: Guy Cefalu
www.gen2robotics.com
info@gen2robotics.com
1.603.892.3282
Featured Product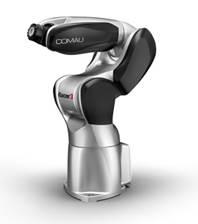 Racer3 is a powerful, high-speed, 6-axis articulated robot featuring a payload of 3kg and a reach of just 630 mm. Built from high-strength aluminum, the newest innovation in Comau robotics is lightweight and can be easily mounted on benches, walls, ceilings or on inclined supports. The third robot within the award-winning Racer family, Racer3 is Comau's response to the growing demand for fast, cost-effective robotic automation within small to medium-sized enterprises and emerging countries. Racer3 is intended for general industry use to increase productivity and reduce overall costs by automating industrial applications. It combines field-proven technology and enhanced dexterity with a keen focus on safety, design and product aesthetics. With a streamlined design and brushed metal exterior, the new powerhouse of a robot combines beauty and speed together with absolute precision and repeatability. Primary applications include assembly, material handling, machine tending, dispensing and pick & place.