Local entrepreneur Guy Cefalu and his company GEN2 ROBOTICS, designs and manufactures drones for precision agriculture and more.
The technology to send small unmanned aerial vehicles, better known as drones, equipped with high resolution cameras and sensors into the American airspace is closer than one would think.

In fact, this technology could be manufactured in Windham NH, as soon as next spring. A Windham NH, entrepreneur - Guy Cefalu and his company GEN2 ROBOTICS will be taken up residency in southern NH.
The company's plan, according to founder and CEO Guy Cefalu, is to deliver systems for use in industries other than the military.
The precision agriculture and public safety sectors would all benefit from the efficiency and low cost of GEN2 ROBOTICS drones - explained the company's chief executive officer, Guy Cefalu.
Drones can revolutionize those industries, especially agriculture, according to Guy. Using a drone instead of manned vehicles, which can cost companies as much as $2000 per hour could increase cost-efficiency in activities like crop inspections, water irrigation, and more.
Other uses of this technology include; archaeology, inspection, law enforcement, disaster recovery, and search & rescue.
The technology is already available and ready to lunch as soon as the FAA sets rules and standards for autonomous unmanned aerial vehicles by 2015, Guy said. At the moment, these systems can be used under the FAA advisory circular 91-57, for model aircraft. In addition, farmers may operate an unmanned aircraft over their own property for personal use … Guidelines for the operation of model aircraft, such as those published by the Academy of Model Aeronautics, may be used by farmers as reference for safe UAS operations now.
With a high percent annual growth rate, drones are the fastest-growing segment of the world aerospace industry, according to Guy.
"This is the highest growth area," he said. "We have something that the market needs that is unique. The possibilities are endless Guy said.
For more information contact;
GEN2 ROBOTICS, LLC
Att: Guy Cefalu
www.gen2robotics.com
info@gen2robotics.com
1.603.892.3282
Featured Product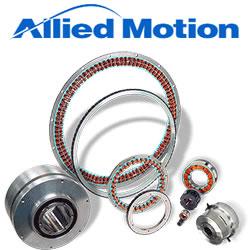 Allied Motion's Megaflux MFH170i series of 170 mm (6.7 in) diameter housed brushless torque motors consists of a high performance brushless DC torque motor, a digital servo drive, and an optical encoder, all integrated into a rugged machined aluminum housing with robust duplex bearings. The MFH0170i series features a 63.5 mm (2.5 in) large-bore through shaft, and is characterized by a very high torque-to-inertia ratio. There are three stack lengths in the series with peak torque ranging from 8.5 up to 16.9 Nm (75 up to 150 lb-in). The standard winding voltage is 48 V. And to ease the hassle of long leadtimes for prototypes, the new MFH170i is now available through our QuickShip program.