CoaXPress or "CXP" accelerates data transmission rates while providing the ability to be used in long distance cabling applications up to 100 meters.
WOBURN, MA, JANUARY 9, 2014 -- While the Chinese calendar calls 2014 "The Year of the Horse," BitFlow, a leading manufacturer of frame grabbers for machine and medical imaging, is predicting 2014 will be the "Year of CoaXPress," a high-speed interface that is rapidly displacing LVDS, RS422, and Camera Link.

"The influx of CoaXPress is largely to address the higher data rates produced by the latest generation of image sensors," explained Donal Waide, Director of Sales & Marketing for BitFlow, Inc. "Sensors with sizes from 12 to 25 Megapixels are coming onto the market capable of delivering up to 2GB of data per second and the camera companies are producing CXP cameras to deal with the data transfer. With its 6.25Gb/s data transfer rate, it caters for these newer, higher-bandwidth cameras. Virtually every major machine vision camera manufacturer has introduced a camera expressly for the CoaXPress interface."
CoaXPress or "CXP" accelerates data transmission rates while providing the ability to be used in long distance cabling applications up to 100 meters. For even higher data rates, multiple CXP channels can be used. For example, the new BitFlow Cyton CXP has four 6.25 Gb/S links providing a total throughput of 25 Gb/S. The back end of the Cyton is based on PCIe x8 Gen 2 DMA engine. This engine can DMA at speeds approaching 4 GB/S. Even at these long distances, CoaXPress permits trigger events to be sent from host to camera and vice versa with minimal latency and jitter.
In addition, because CXP uses low cost, standard 75 Ohm coaxial cable yet delivers impressive bandwidth, it is drawing interest not only from the machine vision community but also from integrators in the medical, military, aerospace, aerial mapping, and security fields where legacy coaxial cable is often deployed. By "re-purposing" already installed coaxial cables, CoaXPress eases the migration from analog to digital cameras.
"Established digital video interfaces such as Camera Link, GigE Vision, USB and FireWire all have limitations and do not meet the requirements of next generation imaging applications," says Waide. "On the high end, Camera Link HS, USB3 and 10 GigE Vision can complete with CoaXPress on some criteria but none have really gained a foothold due to very short maximum cable lengths and other standard specific limitations."
For more information about CoaXPress frame grabbers, visit www.bitflow.com.
Featured Product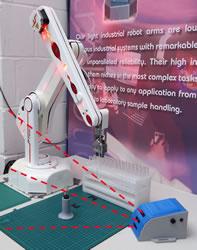 ST Robotics have decades of experience in industrial robots having sold hundreds of robots over the years. The company has 3 main models, R12, R17 and R19 all using a unique simple industrial technology that dramatically reduces costs resulting in the lowest priced industrial robots available. The same uncomplicated technology vastly improves reliability. ST backs this up with a 2 year warranty. Typical applications are routine testing, sample handling and also education. The software is a different paradigm from most robots. It is command based; you type a command and see immediate action. Programming is a building block approach, building confidence as you program in small 'mind-sized bytes'. ST offers free unlimited technical support.