Packaged on convenient USB drives, each kit provides useful technical information and content relevant to its core topic.
Bosch Rexroth is offering educational resource kits to help machine builders, systems integrators and manufacturing end-users address engineering challenges in factory automation, linear motion and mobile engineering.

Packaged on convenient USB drives, each kit provides useful technical information and content relevant to its core topic.
Specific kits covering factory automation, mechatronics and linear motion, hydraulics, packaging and printing, and mobile technology are available for free by request at www.boschrexroth-us.com/resourcekits.
The kit materials are drawn from Bosch Rexroth's extensive library of drive and control application case studies, expert technical papers, current product brochures, links to state-of-the-art engineering and design tools, and the company's latest videos -- carefully selected and combined in one convenient digital package.
The resource kits currently available for ordering include:
*Hydraulics Performance Kit -- With resources focused on improving the design, operation and performance of industrial hydraulics systems, and including a free copy of the 40-page Oil Cleanliness Booklet.
*Linear Motion and Mechatronics @ Work Kit -- An extensive collection of technical papers, technology links and online engineering tools to help design more effective and productive linear motion and mechatronics systems.
*Advancing Factory Automation Kit -- Drawing on Bosch Rexroth's deep experience developing highly flexible, energy-efficient automation solutions for a variety of industries, with special emphasis on the latest developments in electric drive and control platforms.
*Mobile Technology Solutions Kit -- With case studies, product information and video resources highlighting Rexroth technology engineered to help mobile machine builders reduce emissions while delivering improved performance in the mobile solutions.
*Packaging and Printing Kit -- A range of case studies, technical papers and other performance-enhancing resources designed to help enable faster changeovers, more flexibility and reduced waste for packaging and printing processes.
The company plans to develop additional resource kits focused on other key industries and applications in the near future.
Featured Product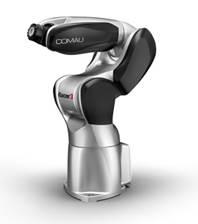 Racer3 is a powerful, high-speed, 6-axis articulated robot featuring a payload of 3kg and a reach of just 630 mm. Built from high-strength aluminum, the newest innovation in Comau robotics is lightweight and can be easily mounted on benches, walls, ceilings or on inclined supports. The third robot within the award-winning Racer family, Racer3 is Comau's response to the growing demand for fast, cost-effective robotic automation within small to medium-sized enterprises and emerging countries. Racer3 is intended for general industry use to increase productivity and reduce overall costs by automating industrial applications. It combines field-proven technology and enhanced dexterity with a keen focus on safety, design and product aesthetics. With a streamlined design and brushed metal exterior, the new powerhouse of a robot combines beauty and speed together with absolute precision and repeatability. Primary applications include assembly, material handling, machine tending, dispensing and pick & place.