What we learned about 3D printing at CES 2014 released by First Class Posting.
January 20, 2014

3D printing is one of those technologies that has looked ready to explode into the mainstream for several years now, and this year's Consumer Electronics Show gave us a look at what might be coming in the not-so-distant future. Hardware and software companies at CES put on quite a few amazing demonstrations to show what the new technology is already capable of achieving.
To give some context on the level of excitement surrounding 3D printing at CES this year, the number of companies involved in 3D printing at CES went from one five years ago to 28 at CES 2014, enough to fill its own zone of the show. The barrier for entry to the 3D printing industry is now the lowest it has ever been, with some of the basic patents for 3D printing having already expired. However, many of the smaller companies who are just starting out could have trouble making an impact in a market dominated by names like MakerBot, 3-D Systems, and Sculpteo.
"A lot of the 3D printing demonstrations we saw at CES this year were cool, but I was looking to see if there'd be something that would go beyond just being cool," said technology entrepreneur from Scottsdale Jason Hope. "3D printing has just about reached the point where it has to prove it's all grown up. There needs to be a company out there who can show us this technology is more than just a toy, and that it's actually something that people are going to want to make a part of their everyday lives."
To read more, please visit http://theapptimes.com/learned-3d-printing-ces-2014/.
Featured Product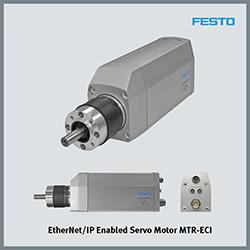 Mechatronic Motion Solutions from Festo is a unique system of components, modules, and software. It integrates all types of pneumatic, servopneumatic and (electro)mechanical automation motion and combines them according to your task. Irrespective of the control system environment you use, Mechatronic Motion Solutions always provides the appropriate interfaces. The fingers can be actively moved and their strength amplified; the operator's hand movements are registered and transmitted to the robotic hand in real time. The objectives are to enhance the strength and endurance of the human hand, to extend humans' scope of action and to secure them an independent lifestyle even at an advanced age.