Compact Assembly Pre-Programmed for Rapid Design-in
Hamburg, Germany (21 January 2014)-TRINAMIC Motion Control, a leading global developer of motor and motion control technologies, announced a smart, energy and cost efficient embedded driver stage custom designed for direct mounting on NEMA 17 stepper motors. Pre-programmed and pre-configured with all operating parameters to support standard 1.1A (rms) motors, the new TMCM-1043 is intended for rapid design-in and off-the-shelf use without any additional programming required.

With its optional programming kit, the TMCM-1043 becomes a fully customizable smart driver stage allowing for adaption to a broad range of embedded motion control and mechatronics requirements. In addition to a desktop programmer kit with an intuitive GUI for evaluation and ideal parameter selection, a volume programmer for quick parameterization of production scale quantities will also be available.
The TMCM-1043 incorporates the TMC2660, TRINAMIC's latest stepper motor driver IC, which integrates power MOSFETS with the industry's lowest RDS(on) specification, resulting in minimal power dissipation. The PCB also integrates all required protection circuitry and interface hardware into a compact and robust assembly. The TMCM-1043 is pulse controlled for 16 microsteps per fullstep. TRINAMIC's patented proprietary interpolation processor interpolates these steps to a resolution of 256 microsteps per fullstep, allowing for a smooth and noiseless movement.
"Some of our customers are asking for a plain vanilla stepper driver that also includes all the features of TRINAMIC ICs," said Michael Randt, TRINAMIC CEO and founder. "The TMCM-1043 is our simple yet elegant answer to that customer request."
Stepper motors are cost-effective solutions for applications that require high-torque at low speeds and precise control of motor axis rotation. Widely used in printers, scanners, robotics, medical and scientific equipment and other applications, TRINAMIC estimates that more than one billion stepper motors are shipped ever year. NEMA 17 is the most popular stepper motor size, accounting for more than 50% of the total stepper market.
With no programming required for a quick and easy out-of-the-box experience, and full parameterization options including a high volume production programmer, the TMCM-1043 is a smart and customizable solution for embedded motion control and mechatronics. TMCM-1043 is currently available in production quantities with attractive volume pricing available. Single unit price is set at USD 43.65 via distribution.
Orders for the TMCM-1043 can be placed directly with TRINAMIC distributor Digi-Key. TRINAMIC's relationship with Digi-key was announced on 4 December 2013: see News Release.
About TRINAMIC
Based in Hamburg, Germany, privately-held TRINAMIC Motion Control GmbH & Co. KG is a recognized global leader in motor and motion control technologies. Leveraging its extensive portfolio of internally developed IP, TRINAMIC motor control products emphasize efficiency, quality and ease-of-use.
The company sells ICs, modules and integrated mechatronics to market leading manufacturers worldwide. The company's products have been integrated into a wide range of applications in biotechnology, lab automation, materials handling, CCTV and factory automation. More information about TRINAMIC can be obtained on the company website: http://www.trinamic.com.
Featured Product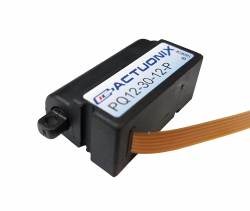 The PQ12-R series of linear servos are the smallest affordable linear servo on the market today. Small enough to fit inside a tic tac box, it's very powerful with a maximum force of over 11lbs. It operates as a direct plug-and-play replacement for standard rotary servos, using the same standard 3 wire connector. Regardless of how you drive your servos, be it with an RC receiver, an Arduino board, or a VEX micro-controller, the PQ12-R servo will function in place of a regular servo, but with the added benefit of providing linear motion. They're available in a 20mm stroke coupled with gear ratio options of 30:1, 63:1 and 100:1 cover a large variety of applications. Our PQ12 is popular used in a variety of robotics applications, medical devices, radio control and 3D printable bionic hands. Our PQ12 is proudly designed in Canada by our in-house team of engineers and thoroughly tested before leaving our facility.