As smart grid substation automation deployments adopt Ethernet-based industrial networking, Texas Instruments (TI) today announced a low-cost solution at DistribuTECH 2014 that eases the learning curve for developers needing to implement the IEC 61850 standard.
The substation automation solution is a collaboration between TI and Triangle MicroWorks (TMW), which uses TMW's IEC 61850 Stack, optimized for TI's Sitara™ AM335x processors and other TI system-on-chips (SoCs). The optimized substation automation solution shortens the development cycle, while reducing system cost and complexity by replacing traditional ASIC or FPGA solutions with a Sitara-processor-based industrial communication subsystem (PRU-ICSS).

TI's Sitara AM335x processors create a reliable smart grid network through its industrial subsystem that supports flexible, real-time communication. In addition to Triangle MicroWorks' IEC 61850 stack, Sitara AM335x processors can also support PROFINET®, EtherCAT®, PROFIBUS® and other industrial protocols on the same processor, making it a strong option for many industrial platforms.
Triangle MicroWorks IEC 61850 Protocol Stack is optimized to work well in embedded environments by using advanced protocol parsing techniques. More than just an MMS communication stack, the TMW 61850 Library provides full services out of the box. TMW supports object models for Edition 1, Edition 2, Hydro, DER, and Wind. Available features include GOOSE, Sampled Values, tracking, external references, mixed edition systems, and IEC 62351 security.
Developers can come see TI's flexible Sitara-processor-based substation automation solution on display with the IEC 61850 stack at both the TI (#3859) and Triangle MicroWorks (#2759) booths at DistribuTECH in San Antonio, TX, Jan. 28-30, 2014.
TI's Smart Grid solutions
With millions of energy meter ICs shipped over the past decade, Texas Instruments is the global systems provider for innovative, secure, economical and future-proof solutions for the worldwide smart grid. TI offers the industry's broadest smart grid portfolio of metrology expertise, application processors, communication systems, wireless connectivity and analog components in readily available silicon, with advanced software, tools and support for compliant solutions in grid infrastructure, utility metering and home or building automation. Learn more at www.ti.com/smartgrid.
Find out more about TI's smart grid and metering solutions:
*Watch TI's smart grid videos.
*Read TI's Sitara™ processor data concentrator white paper.
*TI's smart grid solutions.
*Learn about TI's smart metering solutions.
*Find out more about TI's smart grid infrastructure solutions.
*Discover TI's power line communication solutions.
*Smart grid TI E2E™ community.
*Watch TMW's Intro to IEC 61850 video.
About Texas Instruments
Texas Instruments Incorporated (TI) is a global semiconductor design and manufacturing company that develops analog ICs and embedded processors. By employing the world's brightest minds, TI creates innovations that shape the future of technology. TI is helping more than 100,000 customers transform the future, today. Learn more at www.ti.com.
http://www.ti.com/
Featured Product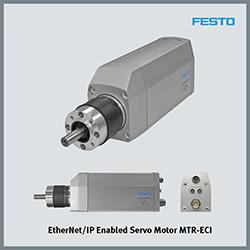 Mechatronic Motion Solutions from Festo is a unique system of components, modules, and software. It integrates all types of pneumatic, servopneumatic and (electro)mechanical automation motion and combines them according to your task. Irrespective of the control system environment you use, Mechatronic Motion Solutions always provides the appropriate interfaces. The fingers can be actively moved and their strength amplified; the operator's hand movements are registered and transmitted to the robotic hand in real time. The objectives are to enhance the strength and endurance of the human hand, to extend humans' scope of action and to secure them an independent lifestyle even at an advanced age.