maxon windings and precious metal brushes generate higher torque.
maxon windings and precious metal brushes generate higher torque.

Haptic applications are well known in medical engineering, robotics, and aeronautics. For example:
An active helicopter sidestick generates forces that provide tactile feedback to the pilot of a conventional system. Such applications require a special drive. maxon's ironless winding and precious metal commutation were predestined for these requirements.
The new - big and powerful - RE 30 EB precious metal brushed motor is a special and rare drive, and for certain applications, it's exactly what's needed. Precious metal brushes are known for ensuring low, constant contact resistance over the entire service life, a characteristic that makes control far easier. This motor also features a low start-up voltage, even after a long period in standstill. With a rated torque of 53 mNm, the motor is very powerful despite the precious metal commutation, providing twice the power of an RE 25 EB. In addition, there is minimal high-frequency interference. These are all advantages that are only possible with ironless windings and precious metal brushes.
The development of this motor was initialized by maxon customers. As a result, the motor is specifically designed for haptic applications such as surgical robots. This means the motor can also be used as a highly-sensitive sensor, acting as the sense of touch for registering mechanical resistance.
For more information, visit our website at www.maxonmotorusa.com
Featured Product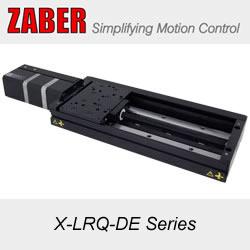 Zaber's new and improved stage (X-BLQ-E) is a closed-loop, belt-driven motorized linear stage with built-in motor encoder and controller. With travel lengths up to 3 m, 10 µm repeatability, and a maximum speed of 2.0 m/s, X-BLQ-E stages are perfect for rapid positioning over large distances. A built-in motor encoder allows closed-loop operation and slip/stall recovery, and an optional indexed knob provides manual control for operation without a computer. Like all Zaber products, the X-BLQ-E Series is designed for easy set-up and operation.