International LiDAR Mapping Forum will be held February 17-19, 2014 in Denver, CO
Portland, ME February 17, 2014

The 11th edition of the International LiDAR Mapping Forum(ILMF) gets underway today at the Hyatt Regency Denver. More than 850 LiDAR professionals are expected to attend the three-day conference and exhibition focused on airborne, terrestrial and bathymetric LiDAR. The event runs through February 19. Full event information can be found here.
ILMF opens this morning with ASPRS (American Society for Photogrammetry and Remote Sensing) "Hot Topics" sessions running until noon. At 1:00 pm, Alastair MacDonald, ILMF Advisory Board member and Managing Director of TMS International Ltd., will welcome the delegates and kick off the ILMF programming. The conference offers the opportunity to learn about the latest advances in technology and hear about industry changes and developments first-hand from industry experts. More than 60 LiDAR experts will be speaking on topics including data acquisition, coastal zone and bathymetric LiDAR, forestry, mobile mapping, emergency response and more.
Running alongside the conference is an exhibition of system and component manufacturers, operators and service companies who will demonstrate new LiDAR products and a wide range of new technologies and services.
Registration is available onsite at the Hyatt Regency Denver at Colorado Convention Center, 650 15th Street, Denver, Colorado. Full conference, single-day and exhibits-only passes are offered.
About International LiDAR Mapping Forum (ILMF)
International LiDAR Mapping Forum is the premier event for the LiDAR market, attracting professionals from all over the world. A major focus of this event is the three day world class Technical Conference, where speakers from the international LiDAR community will report on latest technology advances and recent projects, highlighting actual experiences and lessons learned in aerial, terrestrial and bathymetric LiDAR with a focus on mobile mapping. Another key component of the ILMF event is the international exhibition held alongside where dozens of leading companies in this rapidly growing global market will be showcasing new LiDAR products and a wide range of new technologies and services. Technical workshops are hosted by exhibiting companies and are aimed at providing operators, managers and potential purchasers of equipment with an understanding of the basic principles and fundamental benefits and technology associated with LiDAR while providing the more seasoned experts with up-to-date information on current developments. For more information, visit http://www.lidarmap.org/international. ILMF is presented by SPAR Point Group.
About SPAR Point Group
SPAR Point Group organizes conferences and provides news and information for professionals involved in 3D imaging technologies, including LiDAR. Content- delivered in-person and online- gives practitioners tools and information to make better business decisions. SPAR Point Group organizes International LiDAR Mapping Forum, SPAR Europe, European LiDAR Mapping Forum, SPAR International and SPAR Japan and publishes SPARPointGroup.com and SPARView. SPAR Point Group is wholly-owned by Diversified Communications. For more information, visit http://www.SPARPointGroup.com and http://www.divcom.com.
Featured Product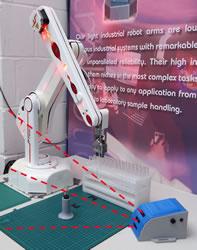 ST Robotics have decades of experience in industrial robots having sold hundreds of robots over the years. The company has 3 main models, R12, R17 and R19 all using a unique simple industrial technology that dramatically reduces costs resulting in the lowest priced industrial robots available. The same uncomplicated technology vastly improves reliability. ST backs this up with a 2 year warranty. Typical applications are routine testing, sample handling and also education. The software is a different paradigm from most robots. It is command based; you type a command and see immediate action. Programming is a building block approach, building confidence as you program in small 'mind-sized bytes'. ST offers free unlimited technical support.