Modern industrial production is no longer imaginable without 3D imaging.
At HANNOVER MESSE (HMI) 2014, MVTec Software GmbH (Munich) presents the

technology leading standard software for machine vision HALCON. HALCON 11
provides powerful tools for stateoftheart 3D imaging.
Modern industrial production is no longer imaginable without 3D imaging.
Whereas in the past industrial robots used to act blind, today they are able
to see threedimensional and to decide where to move and what and where to
grip, based on the 3D information. For robotics, HALCON offers all necessary
3D technologies. These 3D applications for robotics but also 3D inspection
methods are increasingly important especially for the automotive and the
semiconductor industry.
At HMI 2014, MVTec showcases a live demo presenting the recognition of
deviations from an original object model via HALCON's 3D surface inspection
methods. The 3D model of a car created by a stereo camera is located in a
scene to immediately compare the surface of the located object with the
reference model's surface. Subsequently, minimal differences between the 3D
model and the real object are detected in this way based on HALCON's
surfacebased 3D matching.
Moreover, MVTec presents a bottle inspection demo powered by HALCON. This
device simulates an imaging application in a massproduce bottling plant:
Simultaneously, several jobs have to be done as there are the controlling of
the filling level, the fit of the label, OCR (optical character
recognition), reading of data codes, and the fit of the capsules. All these
steps are done in few split seconds.
More information: http://www.halcon.com/
Featured Product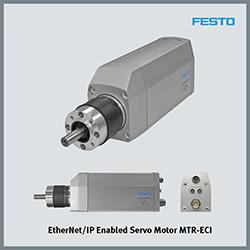 Mechatronic Motion Solutions from Festo is a unique system of components, modules, and software. It integrates all types of pneumatic, servopneumatic and (electro)mechanical automation motion and combines them according to your task. Irrespective of the control system environment you use, Mechatronic Motion Solutions always provides the appropriate interfaces. The fingers can be actively moved and their strength amplified; the operator's hand movements are registered and transmitted to the robotic hand in real time. The objectives are to enhance the strength and endurance of the human hand, to extend humans' scope of action and to secure them an independent lifestyle even at an advanced age.