Teledyne DALSA, a Teledyne Technologies company and global leader in machine vision technology, has expanded its Genie™ TS series with the addition of a new 5M camera that can reach speeds up to 51 frames per second (fps) in fast mode.
This new Genie combines the industry's latest image sensor technology with a newly optimized camera platform to deliver the widest, most powerful feature set ever in a GigE Vision camera.

New Genie TS M2560 delivers 5 Megapixel resolution at 51 frames per second
Unique to the Genie TS camera family is a feature that allows the capture of multiple Regions of Interest (ROI), significantly reducing the amount of data transferred and simultaneously allowing systems to focus on events that are critical to the inspection. This form of data reduction decreases the amount of information transferred, saving on bandwidth and minimizing data transfer along the GigE link.
"The Genie TS M2560 delivers an amazing image due to in-sensor calibration which allows for on-chip processing and photo correction at the sensor level," stated Manny Romero, Genie Product Manager at Teledyne DALSA. "It is the fastest 5M GigE camera available today, and a cost-efficient solution for challenging inspection applications."
The Genie TS is engineered to meet the ever increasing speed and image clarity requirements of machine vision. All features are easily accessible with Teledyne DALSA's advanced Sapera Essential or other GigE Vision-compliant software, and like all Genie cameras, this latest model is GigE Vision-compliant.
The Genie TS M2560 monochrome camera is suitable for a wide range of inspection applications including intelligent traffic systems (ITS), entertainment, medical, food and beverage inspection, and electronics and printed circuit board (PCB) inspection, and many others. A color version of the camera will be available later this year. For more information on product specifications, visit the Genie TS feature page or view the Genie TS video. For higher resolution images, visit Teledyne DALSA's online media kit.
About Teledyne DALSA's Machine Vision Products and Services
Teledyne DALSA is a world leader in the design, manufacture and deployment of digital imaging components for the machine vision market. Teledyne DALSA image sensors, cameras, smart cameras, frame grabbers, software, and vision solutions are used in thousands of automated inspection systems around the world and across multiple industries including semiconductor, solar cell, flat panel display, electronics, automotive, medical, packaging and general manufacturing. For more information, visit www.teledynedalsa.com/imaging
About Teledyne DALSA, Inc.
Teledyne DALSA is an international leader in high performance digital imaging and semiconductors with approximately 1,000 employees worldwide, headquartered in Waterloo, Ontario, Canada. Established in 1980, the company designs, develops, manufactures and markets digital imaging products and solutions, in addition to providing specialized semiconductor products and services including MEMS. For more information, visit Teledyne DALSA's website at www.teledynedalsa.com.
Featured Product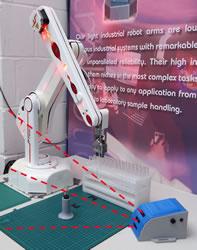 ST Robotics have decades of experience in industrial robots having sold hundreds of robots over the years. The company has 3 main models, R12, R17 and R19 all using a unique simple industrial technology that dramatically reduces costs resulting in the lowest priced industrial robots available. The same uncomplicated technology vastly improves reliability. ST backs this up with a 2 year warranty. Typical applications are routine testing, sample handling and also education. The software is a different paradigm from most robots. It is command based; you type a command and see immediate action. Programming is a building block approach, building confidence as you program in small 'mind-sized bytes'. ST offers free unlimited technical support.