Custom Metal Fabricator Recognized for Commitment to Innovation, Safety
Cleveland, Ohio February 19, 2014

American Roll Form Products (ARFP), a leading custom metal fabricator, received prominent recognition for its continued dedication to advancing manufacturing while maintaining high quality and safety standards.
ARFP received the Pitcher Insurance Agency Safety Award by the Precision Metalforming Association (PMA), a trade association representing the $113-billion metalforming industry of North America. ARFP was recognized for its outstanding health and safety program, which resulted in a 66 percent decline in recordable injuries and a 40 percent reduction in days spent away from work.
Presented annually, the awards recognize the high standards of achievement set by the metalforming industry in the areas of design, safety, training and education, process control, quality, productivity and product development.
"Receiving the Pitcher Insurance Agency Safety Award by such a reputable institution is a true reflection of our dedication to the wellness and safety of our valued employees," said Phil Misch, President of American Roll Form Products. "American Roll Form Products is continuously committed to pursuing the technology and innovative thinking that will safely move the entire industry forward."
ARFP also received an Honorable Mention by the Smart Business 2014 Evolution of Manufacturing Awards. The awards recognize Northern Ohio manufacturers that demonstrate the ability to adapt to competition in a global economy through improved operations, new technologies, products or services.
The winners will be announced at an event held at the 2014 Evolution of Manufacturing Conference presented by The Advanced Training Technology Center and Cuyahoga Community College on Thursday, February 20, 2014.
For more information about American Roll Form Products, visit arfpcorp.com.
About American Roll Form Products
Headquartered in Painesville, Ohio, ARFP has three manufacturing facilities with over 210,000 square feet under roof and 31 rolling mills. Their impressive capabilities include pre-punching up to 250 tons, turn-key fabrication with (2) Amada turret type punching systems and a 350 Ton Press Brake, and Robotic Welding. Their customer list includes regional firms in the Midwest as well as Fortune 50 companies and major OEMs throughout the USA. To find additional information about ARFP, visit http://www.arfpcorp.com. Use the website to contact ARFP or call 440-352-0753. Written inquiries should be addressed to American Roll Form Products, 892 Callendar Blvd., Painesville, OH 44077.
Featured Product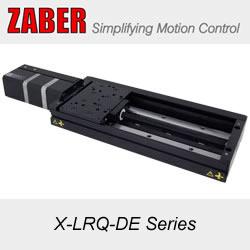 Zaber's new and improved stage (X-BLQ-E) is a closed-loop, belt-driven motorized linear stage with built-in motor encoder and controller. With travel lengths up to 3 m, 10 µm repeatability, and a maximum speed of 2.0 m/s, X-BLQ-E stages are perfect for rapid positioning over large distances. A built-in motor encoder allows closed-loop operation and slip/stall recovery, and an optional indexed knob provides manual control for operation without a computer. Like all Zaber products, the X-BLQ-E Series is designed for easy set-up and operation.