WAM technology in leading neurorehabilitation research ...
Barrett's WAM technology was designed from the beginning as human-centric, to be a robot that would be safer to work alongside people. This forward thinking approach now has the WAM in high demand as researchers and innovative companies realize the many benefits and extraordinary value to be created from the effective collaboration between robots and humans.

One such area where the WAM excels is the nascent field of Rehabilitation Robotics. Worldwide there are 15 million new incidences of stroke each year. In the United States, most people survive, but a full two thirds experience some level of long-term motor and/or cognitive impairment.
Led by Dr. James Patton, Director of The Center for Rehab Robotics at the Rehabilitation Institute of Chicago (RIC), a team of researchers is using a WAM arm in their studies of error-augmentation to help survivors of stroke regain upper-limb mobility and strength.
Combined with an inexpensive 3D projection system, users try to reach for balls that appear sequentially in space before them. During the various targeted movements, researchers can impart a full range of force fields on the user. This methodology is designed to reinforce normal motions and trajectories. The researchers create an engaging environment that challenges the user and leverages the natural process of neuroplastic learning to restore lost functions.
RIC's innovative approach puts the rehabilitation therapist in direct control of robotic therapy design, session length, repetition, movement intensity, individual patient scheduling, progress tracking, and treatment efficacy evaluation.
Robotic nerorehabilitation leverages the therapist's time, and assures that the user is engaged in their treatment, where both patient and therapist can see and feel their progress in real time.
The number of indications for this device is expected to rise as further research on the benefits of robotic neurorehabilitation therapy unfolds. For example, both the American Heart Association and the VA/DoD have recently endorsed upper-extremity robot-mediated rehabilitation therapy for stroke care.
For more information:
About Barrett Technology...
Barrett is the technology leader in high-performance robotic arms and hands for emerging applications requiring superior versatility.
Contact Victor Barrett at +1-617-252-9000 x33; vb@barrett.com
Website: www.barrett.com and www.wambotics.com
About The Rehabilitation Institute of Chicago (RIC)...
The Center for Bionic Medicine at RIC is one of the world's largest prosthetics and orthotic research centers; it focuses on developing bionic legs, bionic arms and other innovative rehabilitation technologies. Founded in 1954, RIC has been designated the "No. 1 Rehabilitation Hospital in America" by U.S. News & World Report every year since 1991.
Contact Cari Dinneen +1-312-238-4571; cdinneen@ric.org
Website: www.ric.org
Featured Product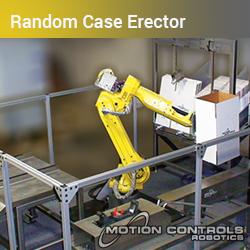 Random Case Erectors are ideal for fulfillment centers and other end-of-line packaging needs. Save money by eliminating changeover downtime. Reduce ergonomic injuries by eliminating repetitive manual tasks. The Random Robotic Case Erector System includes: • FANUC M20iA/20 Robot • Combi gravity case magazine - holds 2 box sizes • Combi bottom flap folder with integrated 3M case sealing head. • Fixed robot base, anchored to the floor • Flexible end of arm tool to pick and erect multiple case sizes to eliminate changeover downtime • System wiring and controls • Color 7.5" touchscreen HMI display for selecting case size • Perimeter guarding with safety interlocks on doors • Programming for Robot, PLC/PMC, HMI and Vision • Complete documentation in electronic format • On-site training and support • Compliance with all applicable robotic safety standards. Alternate safety configuration may be available to allow an operator to changeover a case size in one magazine while the robot continues to work in other magazines. Contact Motion Controls Robotics to learn more about how to implement this system into your current end-of-line operations.