Company's engineering team updated obsolete control systems to assist in customer's injection molded bumper project
Auburn Hills, MI - March 5, 2014 - Patti Engineering, Inc., a leader in control systems integration, today announced it has completed a project for one of the world's largest automotive manufacturing organizations. Its team of renowned engineers conducted control system upgrades for three obsolete control systems on UBE Injection Molding Machines (IMM). At the completion of the project, the customer gained the many advantages of the technological advances in automation while extending the usable life of valuable capital equipment.

Patti Engineering is a Mitsubishi Authorized Systems Integrator and has extensive expertise using the Mitsubishi family of automation and process equipment. The Patti Engineering team was brought in by the customer to update the original Mitsubishi A Series PLC control systems installed on the IMMs, which Mitsubishi no longer supported. To avoid costly production downtime, the machines controls needed to be upgraded from the legacy A Series PLC to the new Mitsubishi Q Series PLC control systems.
As part of this project Patti Engineering upgraded the Human Machine Interface's (HMIs) on the IMM machines to current technology as well. Patti Engineering recreated the functionality of the current Indusoft HMI application, and updated the operator interface PC to a 64 bit, Windows 7 system. This conversion ensures uninterrupted machine performance and reliability with the added efficiencies and functionality the modern technology provides.
"Patti Engineering's longstanding history in revamping industrial equipment to keep up with the ever changing world of PLCs and other industrial controls has been paramount to the reputation we've earned as one of the best control system integration partners in the U.S.," said Sam Hoff, executive vice president, Patti Engineering. "This project has further established our position in the market as a trusted partner, further proven by the fact that we are currently working on upgrading three additional UBE IMMs for this customer at the present time."
For full details on how Patti Engineering completed this project: http://www.pattieng.com/blog-news/blog/major-mitsubishi-control-system-upgrade-for-automotive-manufacturer/.
About Patti Engineering, Inc.
Patti Engineering, Inc. is a CSIA Certified control systems integration company offering high-caliber engineering and software development services. Patti Engineering's technical expertise in electrical control and information systems provides turnkey control systems integration for design/build, upgrade/retrofit and asset/energy management projects. Industrial automation, production intelligence and shop floor IT solutions services include: project management, electrical engineering, hardware design, hardware procurement, software development, installation, calibration, start-up testing, verification, documentation, training and warranty support. Customer satisfaction and project success earned the company placement in the Control Engineering Magazine's Hall of Fame. For more information, visit www.pattieng.com.
Featured Product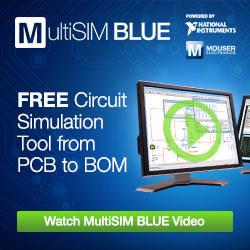 Powered by NI, MultiSIM BLUE Upgrade includes schematic capture, simulation, PCB layout, BOM-to-cart capabilities using only one tool. No more switching between different programs for circuit design. Perform MCU co-simulation. New voltage, current and power probes as well as faster active analysis mode are also available. Plus, it even comes with an expansive database of new components from industry-leading manufacturers. Discover why EDN named MultiSIM BLUE a HOT 100 Product of the Year.