TPC Wire & Cable now offers High-Temp Sleeve Protection up to 3,000˚F.
Macedonia, OH March 12, 2014

TPC Wire & Cable Corp., a leading supplier of wire, cable, connectors and accessories, now offers excellent flame and heat protection with its Thermo-Trex® Silica Ultra-Sleeve™ for use in steel mills, manufacturing plants, foundries, glass factories and welding & cutting shops.
In an effort to add to the variety of high temperature accessories available to their customers and to offer an alternative to the Ceramic Ultra-Sleeve™, TPC has added the Silica Ultra-Sleeve™ to its Thermo-Trex® line of high heat resistant products. Thermo-Trex® Silica Ultra-Sleeve™ uses silica fiber that is 96 percent pure, which is a better option to asbestos or ceramic sleeves as none of the negative health effects often associated with those materials exists. The sleeve provides short term temperature resistance up to 3,000°F (1,650°C) while offering outstanding flame resistance, flexibility and tensile strength.
Thermo-Trex® Silica Ultra-Sleeve™ is a braided silica fiber woven into a sleeve that slips over cables running through areas where extreme heat or flame is present or nearby. The sleeve offers protection from continuous operating temperatures up to 1800˚F (982°C). Because it also protects from water, grease and hydraulic oils, the Thermo-Trex® Silica Ultra-Sleeve™ is perfect for cable covers, cable tray protection, welding cable protection, hose protection and protection from abrasion. TPC's customers will find this high temperature sleeving works well in applications such as primary metals operations, refineries, blasting, cast and electric arc furnaces, robotic weld cells, utility power stations, plastic molding plants, fire protection equipment and in the food & beverage and auto industries. Additional inside diameters up to four inches are available upon request. TPC can also create custom blankets from the silica material for a specific piece of equipment or cabinet to meet a customer's needs.
About TPC Wire & Cable Corp.
TPC Wire & Cable Corp. is a leading supplier of wire, cable and connectors used in harsh industrial environments. TPC Wire & Cable's products are designed and engineered to withstand harsh conditions including abrasion, chemicals, constant flexing and extreme temperatures. TPC serves a variety of markets including the steel, utility, mining, automotive, food and beverage, government, oil and gas, transportation and wood, pulp and paper markets. The company's long-lasting, dependable wire and cable products solve the most difficult application problems in the harshest environments resulting in lower overall costs and increased production time. TPC products outperform and outlast ordinary cable 10:1. For more information about TPC Wire & Cable products, visit http://www.tpcwire.com for more information.
Featured Product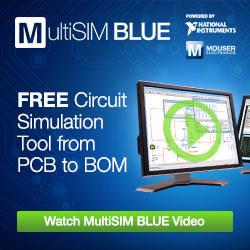 Powered by NI, MultiSIM BLUE Upgrade includes schematic capture, simulation, PCB layout, BOM-to-cart capabilities using only one tool. No more switching between different programs for circuit design. Perform MCU co-simulation. New voltage, current and power probes as well as faster active analysis mode are also available. Plus, it even comes with an expansive database of new components from industry-leading manufacturers. Discover why EDN named MultiSIM BLUE a HOT 100 Product of the Year.