The RVK can be easily mounted to the ERS 135, 170, or the RST-D 087 from SCHUNK.
The RVK has a revolving head which allows for easy application of a "Collect & Place" principle by being able to collect several workpieces before transferring them.

The gripper in the working position can be operated independently from the other grippers, which remain in the gripped state when not in use.
The RVK allows for lower cycle times and fewer transport strokes in a pick & place system and because of its integrated valve technology, fewer valves are required as well. It can be used in clean to slightly contaminated environments such as assembly or packaging areas, or wherever fast cycles are required.
Integrated electric feed-throughs allow all of the grippers to be continuously monitored leading to high process reliability. The RVK can be easily mounted to the ERS 135, 170, or the RST-D 087 from SCHUNK. It can also be adapted to mount on other rotary units, such as another rotary module or a robot arm, as long as there is a through-bore available.
Standard adapter plates allow the use of various grippers as well as the ability to externally or internally grip workpieces.
Featured Product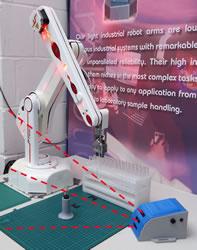 ST Robotics have decades of experience in industrial robots having sold hundreds of robots over the years. The company has 3 main models, R12, R17 and R19 all using a unique simple industrial technology that dramatically reduces costs resulting in the lowest priced industrial robots available. The same uncomplicated technology vastly improves reliability. ST backs this up with a 2 year warranty. Typical applications are routine testing, sample handling and also education. The software is a different paradigm from most robots. It is command based; you type a command and see immediate action. Programming is a building block approach, building confidence as you program in small 'mind-sized bytes'. ST offers free unlimited technical support.