The RVK can be easily mounted to the ERS 135, 170, or the RST-D 087 from SCHUNK.
The RVK has a revolving head which allows for easy application of a "Collect & Place" principle by being able to collect several workpieces before transferring them.

The gripper in the working position can be operated independently from the other grippers, which remain in the gripped state when not in use.
The RVK allows for lower cycle times and fewer transport strokes in a pick & place system and because of its integrated valve technology, fewer valves are required as well. It can be used in clean to slightly contaminated environments such as assembly or packaging areas, or wherever fast cycles are required.
Integrated electric feed-throughs allow all of the grippers to be continuously monitored leading to high process reliability. The RVK can be easily mounted to the ERS 135, 170, or the RST-D 087 from SCHUNK. It can also be adapted to mount on other rotary units, such as another rotary module or a robot arm, as long as there is a through-bore available.
Standard adapter plates allow the use of various grippers as well as the ability to externally or internally grip workpieces.
Featured Product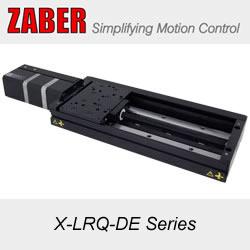 Zaber's new and improved stage (X-BLQ-E) is a closed-loop, belt-driven motorized linear stage with built-in motor encoder and controller. With travel lengths up to 3 m, 10 µm repeatability, and a maximum speed of 2.0 m/s, X-BLQ-E stages are perfect for rapid positioning over large distances. A built-in motor encoder allows closed-loop operation and slip/stall recovery, and an optional indexed knob provides manual control for operation without a computer. Like all Zaber products, the X-BLQ-E Series is designed for easy set-up and operation.