Karl Fessenden to Serve as Executive Guest Speaker at the March 28th Event
ATLANTA-GE Atlanta continues its efforts to ignite minds, power robotics and educate future leaders through its sponsorship of 10 teams at FIRST™ Robotics Competition's Peachtree Regional. Karl Fessenden, Vice President of GE's Power Generation Services business, also will serve as an executive guest speaker at the March 28 event at the Georgia World Congress Center.

FIRST™ Robotics Competition challenges students to work together to design and build a robot in six weeks using a standard "kit of parts" and a common set of rules to solve an assigned problem. Sixty five teams will compete at the FIRST Peachtree Regional for the chance to compete against more than 240 of the top teams worldwide. GE volunteers will work with its 10 teams, comprised of an average of 30 high school students, to help them learn, love and experience real engineering. Students also will develop life skills in team work, problem solving, professionalism, leadership and executive presentation.
"The FIRST programs align directly with GE's five growth-leadership traits - inclusive leadership, clear thinking, risk-taking, showing expertise and focusing outward," said Fessenden. "It's an honor to volunteer with these students and share with them how the skills they've learned through this program can and should apply to their future careers. Each year GE is involved with FIRST, we leave feeling inspired by the bright minds, and ready to engage with the future scientists and engineers that will help us solve tomorrow's challenges."
GE Atlanta was recently presented the Second Annual STEM (Science, Technology, Engineering and Math) Education Award for Corporate Outreach by the Technology Association of Georgia (TAG) and the TAG Education Collaborative (TAG-Ed) as part of its ongoing efforts for education.
About GE
GE (NYSE: GE) works on things that matter. The best people and the best technologies taking on the toughest challenges. Finding solutions in energy, health and home, transportation and finance. Building, powering, moving and curing the world. Not just imagining. Doing. GE works. For more information, visit the company's website at www.ge.com. GE's presence in Atlanta consists of five business units including: Energy Management, Oil & Gas, Transportation, Capital and Power & Water. The total number of employees in the Metro Atlanta area is 2,400.
About Georgia FIRST
FIRST (For Recognition and Inspiration of Science and Technology) engages, celebrates and inspires students as they discover that they can be successful in science, technology, engineering, marketing, website design, 3D animation, communications and more. Georgia FIRST is the regional arm of FIRST that promotes these endeavors in Georgia. Georgia FIRST engages kids in the creative 'hands-on, minds-on" process of technological innovation, while helping to build a lifelong love of science.
Featured Product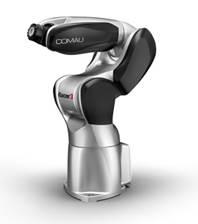 Racer3 is a powerful, high-speed, 6-axis articulated robot featuring a payload of 3kg and a reach of just 630 mm. Built from high-strength aluminum, the newest innovation in Comau robotics is lightweight and can be easily mounted on benches, walls, ceilings or on inclined supports. The third robot within the award-winning Racer family, Racer3 is Comau's response to the growing demand for fast, cost-effective robotic automation within small to medium-sized enterprises and emerging countries. Racer3 is intended for general industry use to increase productivity and reduce overall costs by automating industrial applications. It combines field-proven technology and enhanced dexterity with a keen focus on safety, design and product aesthetics. With a streamlined design and brushed metal exterior, the new powerhouse of a robot combines beauty and speed together with absolute precision and repeatability. Primary applications include assembly, material handling, machine tending, dispensing and pick & place.