Leading lubrication management supplier with strong footprint in metalforming and stamping expands its capability in die casting industry.
Grandville, MI March 26, 2014

Industrial Innovations, a leading manufacturer of industrial lubrication equipment for operation in metalworking industries, today announced its acquisition of Advance Products Corporation's Automation division, known for its die casting solutions. The new entity will do business as Advance Automation and branded as "an Industrial Innovations Company." All operations are being consolidated within a single Industrial Innovations location.
"This acquisition leverages the best solutions of both companies to deliver a higher level of capability to our customers," said Industrial Innovations' president Troy Turnbull. "With this depth of product and application experience, we can be a one stop shop for automation and lubrication solutions across the die casting, foundry and metalworking industries."
The addition of the Advance Automation product line expands Industrial Innovations' existing lubrication management solutions footprint within both the die-casting and foundry industries. Advance has been serving the industry since 1948 and has a strong customer base using its reciprocating die sprayers, servo ladlers, robot extractors, temperature control systems and die spray and plunger tip lubricating systems.
Industrial Innovations has been providing industrial lubrication systems to the metal forming, machining, stamping and die casting industries for over 30 years. The company is known for its SPRA-RITE brand and comprehensive approach to lubrication solution development, supported by the effective engineering principles, reliable components and quality construction of its equipment.
Featured Product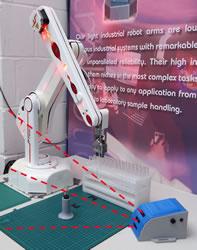 ST Robotics have decades of experience in industrial robots having sold hundreds of robots over the years. The company has 3 main models, R12, R17 and R19 all using a unique simple industrial technology that dramatically reduces costs resulting in the lowest priced industrial robots available. The same uncomplicated technology vastly improves reliability. ST backs this up with a 2 year warranty. Typical applications are routine testing, sample handling and also education. The software is a different paradigm from most robots. It is command based; you type a command and see immediate action. Programming is a building block approach, building confidence as you program in small 'mind-sized bytes'. ST offers free unlimited technical support.