Stuttgart Laser Technology Forum (SLT '14): Focus on material mix and transparent materials - Solution Center 'Meet the experts' helps implement ideas
A high-quality transfer of knowledge, which firstly suggests ideas for new developments in the area of laser material processing, and secondly can bring improved processes to the manufacturing area, is the precise focal point of the eighth Stuttgart Laser Technology Forum (SLT '14). They constitute the flagship of the comprehensive framework programme which LASYS 2014, the international trade fair for laser material processing, will offer. SLT '14 takes place on the first two days of the trade fair, 24 and 25 June 2014, in the ICS of Messe Stuttgart, whereas the doors to LASYS 2014 will remain open until 26 June. Also in the Solution Center 'Meet the experts', as a contact point for advice, employees from five well-known laser research institutes will be on hand to answer questions for the duration of the trade fair. The experts are hoping to meet open, sociable trade fair visitors. LASYS is a unique trade fair in terms of its alignment, because it focuses on laser systems, laser solutions as well as techniques for material processing - across all industries and for all materials.

SLT '14 - Central user forum
There are hardly any materials which laser cannot process - and the technique is becoming more and more efficient and economical. Laser experts such as Prof. Thomas Graf, Director of the Institut für Strahlwerkzeuge (IFSW) of the University of Stuttgart, as well as Dr. Rudolf Weber, Head of Process Development at the IFSW, are aware of this and want to introduce their findings to the industry. This is why they are already organising the fourth Stuttgart Laser Technology Forum, which accompanies the LASYS trade fair. "Since it started in 1999 the SLT has established itself as a central user forum in the laser industry and is aimed at an international audience", states Prof. Graf and adds: "At the last SLT 2012 we welcomed 460 participants. The newly designed programme structure with parallel sessions complementing the topics, the careful selection of high-quality contributions and the reduction to two days have proved very successful." "This was also confirmed in a survey conducted after SLT '12", adds Dr. Weber. "The overall quality of the event", continues the processing expert, "was rated good to very good by 82 percent of the participants."
Focus: Laser tackles materials which are difficult to process
The SLT programme once again offers high quality in the approximately 45 presentations. As is tradition, it is all about micro and macro processing, as well as the respective laser sources and beam guiding systems. This year the focus is on using laser to process "difficult" materials, such as the joining of hybrid materials using the corresponding X-ray diagnostics and the processing of transparent, brittle materials such as glass. Accordingly, the latest developments in the area of ultrashort pulse lasers and ultrafast scanners and beam shaping are presented. "These are topics", according to Prof. Graf, "which will play a significant role in the near future in laser processing: hybrid materials for lightweight construction in electric mobility, brittle materials in display manufacture and in the solar industry - and ultrashort pulse lasers now achieve average performances suitable for industry."
Well-known keynote speakers, not only from Germany but also from France, Japan, the Netherlands, Austria, Switzerland and the USA, will also contribute their current knowledge to SLT '14. These keynote speakers are from research and development and industry and provide not only a competent overview of the latest trends in laser technology, but also in particular an insight into the relevant fundamentals with a focus on possible new applications. Contributions from industry document the implementation of innovations. "The range of topics is diverse", states Dr. Weber, "from extreme fundamental research, such as the measurement of the proton radius, on which Dr. Pohl from the Max Planck Institute for Quantum Optics will report, through to "Automotive Production Plants of the Future", on which Prof. Bauernhansl from the Fraunhofer Institute IPA will report." The full programme of SLT '14 can be viewed online from 01. 04. 14 at http://www.slt.uni-stuttgart.de/. "We hope to acquire ten percent more participants than the previous event two years ago", adds Dr. Weber.
Active networking
The organisers also find it is very important that the conference participants are keen to exchange information and ideas in a relaxed setting. Hence why the intervals between the presentations have been extended slightly at this year's Stuttgart Laser Technology Forum. "The relaxed schedule, together with the pleasant ambience of Messe Stuttgart, offers suitable conditions for active and successful networking", highlights Prof. Graf. An evening event, the laboratory tour of the IFSW, following the first day of the event, offer further opportunities to exchange information and experiences.
Contact point: Solution Center 'Meet the experts'
The Solution Center 'Meet the experts' also presents another opportunity to exchange information, knowledge and experiences. This is an additional offer in the targeted framework programme of the LASYS 2014 trade fair. For the third time LASYS visitors from all industries and with all levels of background experience will have the opportunity to obtain advice from laser experts at the start of the trade fair visit directly at the entrance to Hall 4. People with a material processing problem who do not know which technology, laser system or process is best suited for their problem, or which material can be processed under which conditions and which manufacturer, or plant engineer, offers suitable solutions for their manufacturing problem, can obtain valuable answers, tips and information here and establish contacts. Five well-known laser institutes offer to share their expertise on all three trade fair days. They are: consultants from the Bavarian Laser Centre GmbH (blz), the Institut für Strahlwerkzeuge of the University of Stuttgart (IFSW), the Fraunhofer Institute for Laser Technology (ILT), the Fraunhofer Institute for Material and Laser Technology (IWS), as well as the Hanover Laser Centre e.V. (LZH). The organiser of the Solution Center is Dr. Marwan Abdou Ahmed, Head of Laser Development and Laser Optics at IFSW, in cooperation with Messe Stuttgart. "Visitors can also bring along their products. Based on their many years of experience and their knowledge about the laser market, the laser institutes point out upon request exhibiting companies which offer suitable technologies for the respective manufacturing problem" states the organiser. Dr. Abdou Ahmed describes below the types of problems LASYS visitors have come with to the Solution Center in the past: "Processing options and savings with laser, welding transmission components, labelling white plastic, cutting glass, joining ceramics, welding/soldering steel and brass, advice on purchasing a cutting machine for wood and plastic, and lots more. Sometimes cooperation with an institute was suggested as the solution and other times reference was made to corresponding exhibitors."
The Solution Center has proved very popular in recent years, but according to Dr. Abdou Ahmed there is still a certain acceptance barrier among visitors to use the unique and complimentary offering and establish non-binding contact with the consultants. "We want to help break down this barrier, approach the visitors more and place more emphasis on solutions, as well as refer to exhibitors", states the Head of Development.
Training at LASYS 2014
Other accompanying programmes add to LASYS 2014 and offer trade fair visitors several options to bring their knowledge up to date or enhance it: The Short Course "Basics on Laser and Laser Material Processing" is aimed at those who want to learn about laser technology or refresh their fundamental knowledge. The "Lasers in Action" forum, directly in the trade fair hall, has a practical element. The topics range from "Robot-based 3D Laser Material Processing in the Automotive Industry" to "Processing Transparent Materials using Ultrashort Pulse Lasers" through to the trend topic "Laser Additive Manufacturing". The "Laser in Action" forum is an excellent complement to the knowledge-oriented SLT. And there is once again the "Stuttgart Laser Marketplace", a seminar from Optech Consulting about markets and trends in the area of laser material processing. For the first time there will also be pavilions on "Robots and Automation" and "Laser Additive Manufacturing".
Other trade fairs are also taking place at the same time as LASYS 2014 on the Stuttgart trade fair grounds, which will ensure synergy effects for visitors: the automotive shows, O&S, the international trade fair for surface treatments and coatings, as well as parts2clean for industrial parts and surface cleaning - more reasons to come to Stuttgart! The excellent traffic infrastructure of the Stuttgart trade fair grounds, located directly opposite Stuttgart Airport and with a connection to the motorway, also invites visitors in a hurry to stop by and take a look.
Featured Product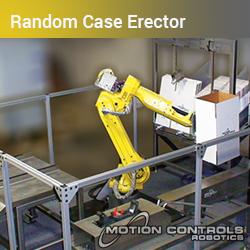 Random Case Erectors are ideal for fulfillment centers and other end-of-line packaging needs. Save money by eliminating changeover downtime. Reduce ergonomic injuries by eliminating repetitive manual tasks. The Random Robotic Case Erector System includes: • FANUC M20iA/20 Robot • Combi gravity case magazine - holds 2 box sizes • Combi bottom flap folder with integrated 3M case sealing head. • Fixed robot base, anchored to the floor • Flexible end of arm tool to pick and erect multiple case sizes to eliminate changeover downtime • System wiring and controls • Color 7.5" touchscreen HMI display for selecting case size • Perimeter guarding with safety interlocks on doors • Programming for Robot, PLC/PMC, HMI and Vision • Complete documentation in electronic format • On-site training and support • Compliance with all applicable robotic safety standards. Alternate safety configuration may be available to allow an operator to changeover a case size in one magazine while the robot continues to work in other magazines. Contact Motion Controls Robotics to learn more about how to implement this system into your current end-of-line operations.