Monsanto Company, United Technologies Corporation, and others sign on to sponsor annual Sport for the Mind™ event
MANCHESTER, N.H.--FIRST® (For Inspiration and Recognition of Science and Technology), a not-for-profit organization founded by inventor Dean Kamen to inspire young people's interest and participation in science and technology, today announced that Qualcomm Incorporated will increase its support as Presenting Sponsor for the 2014 FIRST Championship being held at the Edward Jones Dome in St. Louis, Mo., April 23-26.

"We're honored that Qualcomm has increased their support as the Presenting Sponsor for the 2014 FIRST Championship," said FIRST President, Donald E. Bossi. "Qualcomm's continued dedication demonstrates their belief in the FIRST mission, and their dedication to developing the next generation of innovators. By way of their support, Qualcomm and the rest of the FIRST Championship Sponsors are instrumental in making this event the ultimate celebration of our students' accomplishments."
FIRST Sponsors underwrite the annual Championship, which was voted one of the top 7 family-friendly events in St. Louis in 2013 by the St. Louis Sprout. With the help of thousands of Coaches, Mentors, and Volunteers, more than 10,000 young people in grades K-12 from around the world have earned a coveted spot to compete at the FIRST Championship. With the support of FIRST Sponsors, the FIRST Championship promises participating teams and spectators alike an exciting, action-packed, once-in-a-lifetime experience that has all the heart-pounding thrills and team spirit of a professional sporting event.
"Mobile is the largest technology platform in history, and so it is imperative that we commit to improving science, technology, engineering and math (STEM) educational opportunities," said Matt Grob, executive vice president and chief technology officer of Qualcomm. "Qualcomm is proud to recognize these amazing students - they are our future - and they will help create the next big mobile inventions and opportunities."
The FIRST Championship, which is projected to bring in more than 31,250 spectators and students, has an estimated economic impact of $30 million to the St. Louis area. The city has hosted the Championship since 2011. The international event showcases student teams from FIRST® Robotics Competition (FRC®) for students in grades 9-12; FIRST® Tech Challenge (FTC®) for grades 7-12; FIRST® LEGO® League (FLL®) for grades 4-8; and Junior FIRST® LEGO® League (Jr.FLL®) for grades K-3.
2014 FIRST Championship Program Sponsors include: Monsanto Company, Abbott Fund, Boeing Company, Coca-Cola Company, FedEx Corporation, NASA, NRG Energy, Inc., United Technologies Corporation, and United States Air Force.
Other 2014 FIRST Championship Sponsors include: America Makes, Bechtel Corporation, Best Buy Co., Inc., Booz Allen Hamilton, Inc., Central Intelligence Agency, Comcast NBCUniversal, GoDaddy, International Association of Emergency Managers, International Council on Systems Engineering (INCOSE), Leidos, Inc., Microsoft Corporation, Mouser Electronics, Inc., Novelis, Inc., Oak Ridge National Laboratory, SpaceX, Underwriters Laboratories, and Vulcan Spring.
Save the date! The FIRST Championship will be in St. Louis, Mo. through 2017:
April 23-26, 2014 | April 22-25, 2015 | April 27-30, 2016 | April 26-29, 2017
About FIRST®
Accomplished inventor Dean Kamen founded FIRST® (For Inspiration and Recognition of Science and Technology) in 1989 to inspire an appreciation of science and technology in young people. Based in Manchester, N.H., FIRST designs accessible, innovative programs to build self-confidence, knowledge, and life skills while motivating young people to pursue opportunities in science, technology, and engineering. With support from over 200 of the Fortune 500 companies and more than $19 million in college scholarships, the not-for-profit organization hosts the FIRST® Robotics Competition (FRC® ) for students in Grades 9-12; FIRST® Tech Challenge (FTC® ) for Grades 7-12; FIRST® LEGO® League (FLL® ) for Grades 4-8; and Junior FIRST® LEGO® League (Jr.FLL®) for Grades K-3. Gracious Professionalism® is a way of doing things that encourages high-quality work, emphasizes the value of others, and respects individuals and the community. To learn more about FIRST, go to www.usfirst.org.
Featured Product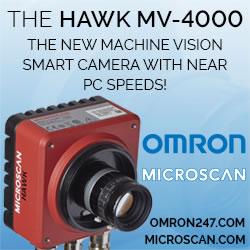 Space, or the lack of it, can be a challenge when placing barcodes or Data Matrix symbols on components. However, readable barcodes are critical to component traceability, time/date stamping, work in progress (WIP) tracking, and recall management. MicroHAWK UHD smart cameras can decode very small and difficult-to-read barcodes, including Data Matrix two-dimensional (2D) symbols and direct part marks (DPM). Users can rely on the MicroHAWK UHD to read symbols with an x-dimension almost invisible to the naked eye!