Kratos Defense & Security Solutions, Inc., a leading National Security Solutions provider, announced today that its Micro Systems, Inc. subsidiary, of its Advanced Drones and Target Systems Division, recently received a contract from the U.S. Army valued at $4 million to produce unmanned aerial drone command and control systems.
Under the new award, Kratos will produce portable and transportable configurations of the U.S. Army's unmanned target drone command and control stations and associated test equipment. Kratos is a premier provider of high performance unmanned drone aircraft and these systems' related avionics, electronics, command and control systems, solutions, services and logistics.

Kevin Ferguson, Senior Vice President of Micro Systems, Inc., said, "Micro Systems is pleased that the U.S. Army's Targets Management Office (TMO) has issued a delivery order for unmanned target command and control systems. We have enjoyed an outstanding relationship with the TMO since 1987 and hope to continue this relationship far into the future. We believe that our business is very well positioned to meet or exceed our customers' requirements for high performance unmanned aerial drone command and control electronics and support services."
About Kratos Defense & Security Solutions
Kratos Defense & Security Solutions, Inc. (Nasdaq:KTOS) is a specialized National Security technology Company providing mission critical products, services and solutions for United States National Security. Kratos' core capabilities are sophisticated engineering, manufacturing and system integration offerings for National Security platforms and programs. Kratos' areas of expertise include Command, Control, Communications, Computing, Combat Systems, Intelligence, Surveillance and Reconnaissance (C5ISR), satellite communication systems, electronic warfare, unmanned systems, missile defense, cyber warfare, cybersecurity, information assurance, and critical infrastructure security. Kratos has primarily an engineering and technically oriented work force of approximately 3,800. The vast majority of Kratos' work is performed on a military base, in a secure facility or at a critical infrastructure location. Kratos' primary end customers are National Security related agencies. News and information are available at www.KratosDefense.com.
http://www.kratosdefense.com/
Featured Product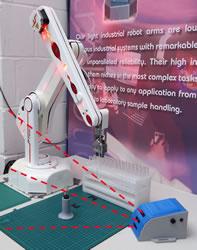 ST Robotics have decades of experience in industrial robots having sold hundreds of robots over the years. The company has 3 main models, R12, R17 and R19 all using a unique simple industrial technology that dramatically reduces costs resulting in the lowest priced industrial robots available. The same uncomplicated technology vastly improves reliability. ST backs this up with a 2 year warranty. Typical applications are routine testing, sample handling and also education. The software is a different paradigm from most robots. It is command based; you type a command and see immediate action. Programming is a building block approach, building confidence as you program in small 'mind-sized bytes'. ST offers free unlimited technical support.