The main benefits of this revolutionary filling system are high output & low manning, relatively short investment payback time and health/ environment & safety advantages. The system also opens up possibilities to centralize filling operations with integrated system suppliers through cooperation which ensures smooth start-up and simpler support.
The two companies, Erkomat Oy and Thrace Polybulk, have in close cooperation become the leading global supplier of fully automatic filling systems for FIBCs (also called big-bags or bulk bags).

Erkomat Oy specializes in automation packaging solutions for small sacks and big-bags of various powder and granulated materials.
During the last 20 years, Erkomat has delivered many fully automatic big-bag filling systems to manufacturers of fertilizers, fish feeds, metal & mineral powders/aggregates, polyolefin, seeds and the chemical industry.
Thrace Polybulk is a packaging company that has, since the mid 90's, been producing and supplying the automatic filling lines with FIBC's on reels and optimizing the logistics of reel-bags further.
The empty big-bags are delivered on reel and unrolled to a feeding table where a bag liner is opened with vacuum pads and mechanical gripper. The automatic big-bag placer sets bag to the filling spout, inflating and centering it so that the scale can distribute the product accurately into the big-bag. After filling the liner is heat sealed so that bag is ready for further handling and picked up from conveyor line.
The capacity of the automatic big-bag filling system is depending on the characteristics of products handled. With good flowing products, like granulated fertilizer, the automatic filling system is reaching capacity over 200 big-bags/hour (á 500-600 kg).
Revolutionary technology
Erkomat is now delivering a new filling system to customers, where very fine mineral powder is filled into 4-loop big-bags with gross scale weighing equipment.
A new developed is a metal clamp closing method where the inlet is stretched, crimped, turned and closed from the outside. It's called ERKOCLOSE-SNC (Swan Neck Closing) closing system and has been used in the first fully automatic lines for 4-loop big-bags.
http://erkomat.fi/
Featured Product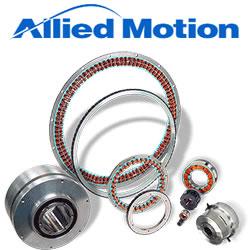 Allied Motion's Megaflux MFH170i series of 170 mm (6.7 in) diameter housed brushless torque motors consists of a high performance brushless DC torque motor, a digital servo drive, and an optical encoder, all integrated into a rugged machined aluminum housing with robust duplex bearings. The MFH0170i series features a 63.5 mm (2.5 in) large-bore through shaft, and is characterized by a very high torque-to-inertia ratio. There are three stack lengths in the series with peak torque ranging from 8.5 up to 16.9 Nm (75 up to 150 lb-in). The standard winding voltage is 48 V. And to ease the hassle of long leadtimes for prototypes, the new MFH170i is now available through our QuickShip program.