U.S. Military customer has issued a contract for immediate delivery of Datron's VTOL sUAS.
San Diego, California April 23, 2014

Datron World Communications, Inc. (http://www.dtwc.com), a US-based leading supplier of unmanned solutions, announced today the receipt of a purchase order from a U.S. military customer for small unmanned aircraft systems (sUAS).
"Our VTOL sUAS platforms are field tested and battle proven" said Kevin J. Kane, President and CEO of Datron. "The capability being delivered with this order is setting the standard for intelligence gathering for the tactical operator."
Small, rugged, and lightweight, these VTOL sUAS platforms are ideal for tactical users and designed to capture and transmit high quality video and images in the field. The vertical take-off and landing (VTOL) vehicle has the ability to hover and stare at any point of interest. The GPS-based controller is fully software driven providing simplicity of training and a very easy to use experience for the operator.
In addition to VTOL unmanned aircraft solutions, Datron provides a comprehensive selection of reliable HF and VHF military voice and data radio products to meet the needs of customers in various locations worldwide.
Information about Datron's unmanned aircraft solutions and all of Datron's radio communications products can be found at http://www.dtwc.com or by contacting our worldwide sales team at sales@dtwc.com.
About Datron World Communications, Inc.
Datron World Communications Inc. delivers voice and data radio communications systems worldwide. The company's offerings enable governments, security forces, and commercial users to establish and maintain critical voice, data, and video connectivity. Known for their ease of use and reliability, Datron's products and systems are currently deployed in over 80 countries. Datron World Communications, Inc. was established in 1971 and is headquartered in San Diego, California, USA. For more information, visit: http://www.dtwc.com.
Featured Product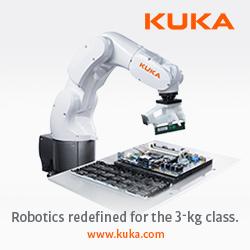 Great advances often start with small steps - in manufacturing cells measuring only 600 × 600 mm. Here, the KR 3 AGILUS is in its element. Particularly in the case of small parts and products which must be produced in a minimum of space. KUKA expertise, concentrated into the smallest of spaces, is setting new standards for the 3-kg class. The lightweight robot masters various tasks with agility, dynamism and maximum precision, leading to high flexibility in production - even when it comes to extremely narrow spaces.