ViSCO Technologies established ViSCO USA in Illinois in order to provide prompt and attentive support for the increasing needs for machine vision systems for production lines in North America.
ViSCO Technologies has expanded its sales of optimized equipments (vision system, camera, lightings and so on) for automated cosmetic inspection/image processing inspection before shipment of industrial products in its locations including Tokyo, Shanghai, Shenzhen, Kunshan, Taipei, Bangkok, Seoul, Koln, as well as in Osaka and Kagoshima, Japan. By expanding its business to North American market, ViSCO Technologies provides even superior service and customer support, making improvement on high quality only ViSCO could offer and attentive support, which can be called ViSCO solution it has developed.

"ViSCO has absolute confidence in 'total solution for image processing inspection' including camera, lens, and lighting to lead customer's challenges into solution," said Hideyuki Adachi, president and CEO of ViSCO Technologies. "Upon this expansion, ViSCO's support network which goes beyond countries is enhanced even more, helping customers in North America find more on our solid maintenance service of machine vision service and comfort."
About ViSCO Technologies
ViSCO Technologies is formed of experts in imaging technologies and image processing inspections. ViSCO Technologies provides total consulting as a machine vision maker with expertise and experience in image processing algorithm, optical technologies, and electronics/machinery, offering development, manufacturing, sales, and maintenance service of machine vision systems.
Since its foundation in 2003, ViSCO Technologies has adopted its slogan, "Images All the Way," aiming at growth and diffusion of machine vision technology into society.
http://www.visco-tech.com/
Featured Product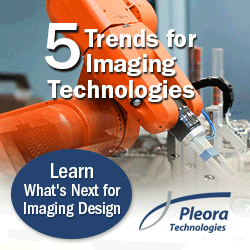 Technology development moves at a dizzying pace and the machine vision industry is no exception. Specific to imaging there is consistent innovation aimed at improving efficiencies, costs, and intelligence. Over the past 12 months, for example, new USB3 Vision™ products have driven the design of higher bandwidth, plug-and-play solutions for imaging applications. What's next for machine vision? This article examines five trends that are expected to influence imaging system design. Sign up at right to receive news and updates on the latest vision technology for medical imaging and you'll receive Five Trends for Imaging Technologies free!