Condor 3001xF features two HD-SDI outputs designed to support the new generation of avionics monitors running at resolutions of up to 1080p60 ----The card is ideal for retrofitting existing aircraft that have coaxial cables present with a new higher resolution (full HD) video format
ALTAMONTE SPRINGS, Fla.--Tech Source, Inc., an independent supplier of high performance embedded video, graphics and high end computing solutions, has announced the new Condor 3001xF XMC graphics and video card which supports the output of video signals to the next generation of avionics monitors running at resolutions of up to 1080p60.

Based on the AMD RadeonTM E6760 embedded graphics processing unit (GPU), the Condor 3001xF offers exceptional graphics performance. The card features two 3G/HD/SD-SDI video outputs for use in applications that require very high-end graphics and computation. Its built-in video decoder enables dual HD decoding of H.264, VC-1, MPEG4, and MPEG2 compressed video streams.
Selwyn L. Henriques, president and CEO of Tech Source Inc., commented, "With the new generation of avionics monitors moving towards higher resolutions, there was a need to support the HD-SDI interface for monitors with HD-SDI inputs and support for native 1080p resolutions. HD-SDI cables are thin and light and can extend longer lengths compared to DVI or VGA which is an important factor in the avionics market."
The Condor 3001xF is a rugged convection-cooled XMC graphics/video processor with 1GB of on-board memory and supports the latest versions of the APIs such as OpenGL, OpenCL and DirectX. The card can be used for GPGPU (general purpose computing on graphics processing unit) since it supports OpenCL and has 480 shaders delivering up to 576 GFLOPS of single precision floating point performance. An API is also provided to set the SDI resolution.
"This card is also ideal for retrofitting existing aircraft with a new higher resolution (full HD) video format," added Mr. Henriques. "Some aircraft have coaxial cables routed throughout for old TV signals and if these cables are HD, then they can be used to send HD-SDI signals from our card."
Tech Source will demonstrate the new card at SPIE Defense, Security & Sensing, May 6 - 8 at booth 1209 at the Baltimore Convention Center, Baltimore, Maryland and at AUVSI's Unmanned Systems, May 12 - 15 at booth 423 at the Orange County Convention Center, Orlando, Florida.
For more information on the Condor 3001xF card or any other product from Tech Source, please visit www.techsource.com, email embeddedgraphics@techsource.com or call +1 (407) 262 7100.
Featured Product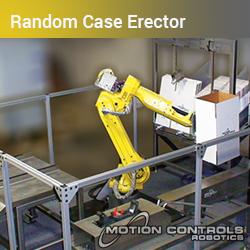 Random Case Erectors are ideal for fulfillment centers and other end-of-line packaging needs. Save money by eliminating changeover downtime. Reduce ergonomic injuries by eliminating repetitive manual tasks. The Random Robotic Case Erector System includes: • FANUC M20iA/20 Robot • Combi gravity case magazine - holds 2 box sizes • Combi bottom flap folder with integrated 3M case sealing head. • Fixed robot base, anchored to the floor • Flexible end of arm tool to pick and erect multiple case sizes to eliminate changeover downtime • System wiring and controls • Color 7.5" touchscreen HMI display for selecting case size • Perimeter guarding with safety interlocks on doors • Programming for Robot, PLC/PMC, HMI and Vision • Complete documentation in electronic format • On-site training and support • Compliance with all applicable robotic safety standards. Alternate safety configuration may be available to allow an operator to changeover a case size in one magazine while the robot continues to work in other magazines. Contact Motion Controls Robotics to learn more about how to implement this system into your current end-of-line operations.