Small, rugged connectors perfect for defense and security applications
Omnetics Connector Corporation, a worldwide designer and manufacturer of micro and nano miniature interconnect products, announces its latching Micro-D connector will be on display at booth #619 at AUVSI's Unmanned Systems 2014, May 12-15 at the Orange County Convention Center in Orlando, Florida. The mission of AUVSI (Association for Unmanned Vehicle Systems International) is to promote and support the unmanned systems and robotics community through communication, education and leadership.

The new push-and-latch design of the latching Micro-D connector incorporates finger grips to assist field operation rendering complications from uneven turning of traditional threaded hardware obsolete. The squeeze-latch system provides quick cable connections to mating connectors and panel equipment and the rapid connection and release offers proven signal integrity for portable and ruggedized electronics applications.
The new design, built to meet the testing specified in MIL-DTL-83513 specifications, significantly reduces the time and effort required to plug a Micro-D connector into a circuit, making them an excellent choice for systems that require more frequent module changing and rapid field replacement of systems where additional tools may not be available. The latching Micro-D is perfect for portable electronic modules and instruments, unmanned vehicles, and optical surveillance systems.
The high reliability latching Micro-D connector, now made with stainless steel latch material,supports up to 200 pounds of pull force. Available in shell styles from 9 to 51 contacts, with .050-inch spacing (or with.025-inch spacing in the companion Nano-D product), the latching Micro-D connector incorporates Omnetics' unique one-piece flex pin design for greater shock and vibration resistance. The gold-plated flex pin is designed for more than 2,000 mating cycles.
Featured Product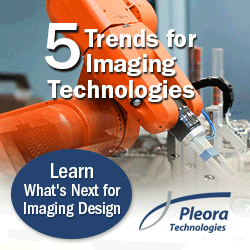 Technology development moves at a dizzying pace and the machine vision industry is no exception. Specific to imaging there is consistent innovation aimed at improving efficiencies, costs, and intelligence. Over the past 12 months, for example, new USB3 Vision™ products have driven the design of higher bandwidth, plug-and-play solutions for imaging applications. What's next for machine vision? This article examines five trends that are expected to influence imaging system design. Sign up at right to receive news and updates on the latest vision technology for medical imaging and you'll receive Five Trends for Imaging Technologies free!