Possibility Hub - a content engine for sharing stories and knowledge about imaging technology
Waterloo, Canada May 5, 2014 - Today Teledyne DALSA unveiled its new Possibility Hub - a content engine for sharing stories and knowledge about imaging technology and its ability to empower human achievement. Continued advances in digital image sensor technology and data processing are driving new and ever more ambitious applications for imaging technology. The Possibility Hub will spotlight these innovations not only in traditional industrial applications, but in the physical and health sciences, arts and entertainment, as well as oceanographic, geographic, and interplanetary exploration.

Visitors to the Possibility Hub (http://possibility.teledynedalsa.com) can expect content that reflects where imaging technology is being deployed today but also for the future with stories that include traditional machine vision cameras re-purposed for blockbuster cinematography, smart vision technology enabling major installations in edutainment or shaping the future of digital imaging for non-visible applications.
"We believe the value of the Possibility Hub will resonate with stakeholders and the industry in general," says Kirk Petersen, Director of Marketing Communications. "We want to shine a spotlight on interesting imaging application stories regardless of where they come from."
For more information about the Imaging Possibility Hub or to contribute, please contact us at possibility@teledynedalsa.com.
Featured Product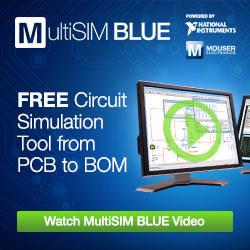 Powered by NI, MultiSIM BLUE Upgrade includes schematic capture, simulation, PCB layout, BOM-to-cart capabilities using only one tool. No more switching between different programs for circuit design. Perform MCU co-simulation. New voltage, current and power probes as well as faster active analysis mode are also available. Plus, it even comes with an expansive database of new components from industry-leading manufacturers. Discover why EDN named MultiSIM BLUE a HOT 100 Product of the Year.