By putting sensors in the palm, the resolution scales nicely with distance.
Barrett Technology is pleased to announce that it will begin offering a full-sensor-suite for its BarrettHand under the protection of US Patent 7,168,748 whose claims cover the addition of cameras and other sensors on the finger BarrettHand BH8-282and palm surfaces of a robotic hand.

The new suite consists of stereo vision, a white LED for target illumination, a structured-light emitter, and an infrared range finder, all in the palm of the Hand. Palm height is increased by a barely-perceptible 6 mm.
The suite will be available by this summer as an option on the latest BarrettHand, the BH8-282, and retrofittable on existing BH8-282s. Customers with BH8-280s can upgrade their Hands to BH8-282 for a small fee and then order the option for their upgraded Hand.
According to CEO Bill Townsend, "We had the foresight to anticipate the need for cameras and like sensors to be located right on the palm and fingers of robotic Hands. Our engineers were way ahead of the curve on this one.
By putting sensors in the palm, the resolution scales nicely with distance. A wide view when far away and high resolution when close up - all with minimal occlusion."
DARPA helped fund development of this sensor array, and the first systems will be installed on BarrettHands owned by DARPA under the highly-successful ARM project.
Featured Product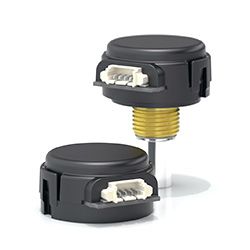 US Digital is pleased to announce the launch of the E4T, their latest series of miniature high performance optical encoders. The E4T series delivers a marked performance increase over similar encoder models and designed to be an enhanced replacement for the E4P encoder series. The E4T utilizes state of the art transmissive optical sensing technology, and incorporates US Digital's own proprietary OptoASIC. Assembly of the E4T is simple and efficient and retains the previous E4P's form factor. Key features of the new E4T include: • Mechanically and Electrically Interchangeable with E4P • Improved Quadrature Signal Strength • 100 kHz Frequency Response • Transmissive Optical Design • Collet Style Push on Optical Disk Design (Patent Pending) • Simple & Efficient Assembly Process As with all of our products the E4T is designed and manufactured in their Vancouver, Washington USA facility and is available for purchase as of December 2014.