- Applied Robotics for Installations and Base Operations (ARIBO) will be

highlighted at the SmartAmerica Challenge Summit, June 11, at the Walter E.
Washington Convention Center.
- The summit is a culmination of a challenge aimed at uniting more than 100
organizations who dared to demonstrate the potential benefits of
cyber-physical systems (CPS) technology, programs and test beds to improve
safety, sustainability, efficiency, mobility and overall quality of life.
- Team ARIBO is a model of public-private partnership and cross-sector
collaboration. ARIBO partners include: The U.S. Army Tank Automotive
Research, Development and Engineering Center (TARDEC), Stanford University,
Induct Technologies, Unicor (through Induct), University of Texas Arlington
Research Institute (UTARI), West Point, Fort Bragg & Womack Army Medical
Center, and Comet Consulting.
Media are invited to attend the SmartAmerica Challenge Summit. Registration
is required. Go to:
http://smartamerica.org/teams/autonomous-robotics-for-installation-and-base-
operations-aribo/.
Contact Lori Grein at: lori.a.grein.civ@mail.mil or call 586-215-9907 for
interview opportunities with ARIBO partners.
Featured Product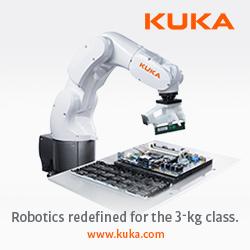 Great advances often start with small steps - in manufacturing cells measuring only 600 × 600 mm. Here, the KR 3 AGILUS is in its element. Particularly in the case of small parts and products which must be produced in a minimum of space. KUKA expertise, concentrated into the smallest of spaces, is setting new standards for the 3-kg class. The lightweight robot masters various tasks with agility, dynamism and maximum precision, leading to high flexibility in production - even when it comes to extremely narrow spaces.