- Applied Robotics for Installations and Base Operations (ARIBO) will be

highlighted at the SmartAmerica Challenge Summit, June 11, at the Walter E.
Washington Convention Center.
- The summit is a culmination of a challenge aimed at uniting more than 100
organizations who dared to demonstrate the potential benefits of
cyber-physical systems (CPS) technology, programs and test beds to improve
safety, sustainability, efficiency, mobility and overall quality of life.
- Team ARIBO is a model of public-private partnership and cross-sector
collaboration. ARIBO partners include: The U.S. Army Tank Automotive
Research, Development and Engineering Center (TARDEC), Stanford University,
Induct Technologies, Unicor (through Induct), University of Texas Arlington
Research Institute (UTARI), West Point, Fort Bragg & Womack Army Medical
Center, and Comet Consulting.
Media are invited to attend the SmartAmerica Challenge Summit. Registration
is required. Go to:
http://smartamerica.org/teams/autonomous-robotics-for-installation-and-base-
operations-aribo/.
Contact Lori Grein at: lori.a.grein.civ@mail.mil or call 586-215-9907 for
interview opportunities with ARIBO partners.
Featured Product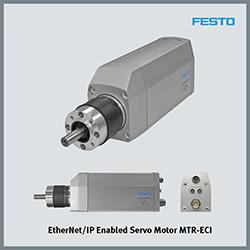 Mechatronic Motion Solutions from Festo is a unique system of components, modules, and software. It integrates all types of pneumatic, servopneumatic and (electro)mechanical automation motion and combines them according to your task. Irrespective of the control system environment you use, Mechatronic Motion Solutions always provides the appropriate interfaces. The fingers can be actively moved and their strength amplified; the operator's hand movements are registered and transmitted to the robotic hand in real time. The objectives are to enhance the strength and endurance of the human hand, to extend humans' scope of action and to secure them an independent lifestyle even at an advanced age.