low-cost, open-source, Arduino-compatible balancing robot for learning, hacking and delight
We just went live on Kickstarter to raise money for our Arduino Uno based Robotics educational platform.

Please take a look at our Kickstarter page for more info.
Featured Product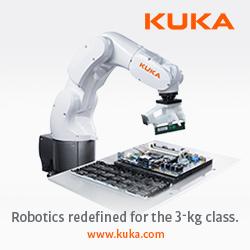 Great advances often start with small steps - in manufacturing cells measuring only 600 × 600 mm. Here, the KR 3 AGILUS is in its element. Particularly in the case of small parts and products which must be produced in a minimum of space. KUKA expertise, concentrated into the smallest of spaces, is setting new standards for the 3-kg class. The lightweight robot masters various tasks with agility, dynamism and maximum precision, leading to high flexibility in production - even when it comes to extremely narrow spaces.