Company Focused on Growing New Business, Supporting Existing Customers in Italy
Pleasanton, Calif., May 28, 2014 - Adept Technology, Inc. (Nasdaq:ADEP), a

leading provider of intelligent robots, autonomous mobile robot solutions,
and services, today announced that it has entered the Southern European
market on a direct basis by hiring Marco Mina as a sales engineer covering
Italy.
"Adept is pleased to welcome Marco Mina to our sales team," said Ruediger
Winter, Adept director of European sales. "Marco has extensive robotics
experience and a wide range of industry contacts. There is an active
automation market in Italy. Bringing Marco on board is a significant step
toward increasing Adept's penetration in the region and will also allow us
to give additional support to our existing customers."
Marco Mina has over 20 years of experience in the robotics business and most
recently worked for Italian machine manufacturer and Adept distributor ARS
Srl as technical manager.
About Adept Technology, Inc.
Adept is a global, leading provider of intelligent robots, autonomous mobile
robot solutions, and services that enable customers to achieve precision,
speed, quality and productivity in their assembly, handling, packaging,
testing, and logistical processes. With a comprehensive portfolio of
high-performance motion controllers, application development software,
vision-guidance technology and high-reliability robot mechanisms with
autonomous capabilities, Adept provides specialized, cost-effective robotics
systems and services to high-growth markets including medical, electronics,
food and semiconductor; as well as to traditional industrial markets
including machine tool automation and automotive components. More
information is available at www.adept.com.
Featured Product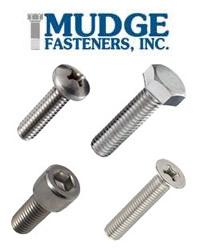 From very small to very large fasteners, in a wide array of materials and platings from stainless steel to cadmium to silver, Mudge Fasteners is a one-stop shop for all Robotics screws, bolts, nuts, washers, inserts, adhesives and more. With over 60,000 products in stock, Mudge also offers custom kitting and packaging, documentation support, specials manufactured to print, performance mockups, fabrication and production consulting.