The 90-Minute Online Business Intelligence Event Updates Status, Practical and Legal Issues
Woodland Hills, CA (PRWEB) June 02, 2014

B2BWebinars.net is pleased to announce its 90-minute Unmanned Aircraft Systems for Commercial Enterprise webinar. The cutting-edge business intelligence event will take place on June 10, 2014, at 1:00 PM - 2:30 PM EST.
Unmanned aircraft systems are moving into the commercial sector. With cuts in the defense budget and mitigated conflicts overseas, this innovative technology has moved into the public domain through search and rescue, emergency response, scientific research, and wildlife protection.
Michael Rizzo, a Partner with McKenna Long & Aldridge LLP, stated, "Our clients who sell unmanned aircraft systems to the government and hobbyists literally cannot wait until the FAA maps out commercial UAS use. Those companies want to fully understand the risks and legal issues. Our seminar will primer those issues and suggest resolutions." Michael, along with Mark Dombroff, Partner, McKenna Long & Aldridge LLP and John McGraw, Former Deputy Director of Flight Standards, FAA, will also speak during the webinar.
The webinar will end with a hypothetical case study: a fact pattern that will analyze the types of liabilities that will arise by virtue of commercial airspace drone usage. During the study, the speaking faculty will examine risk mitigation, indemnification and limitation of liability techniques that buyers and sellers of drones should consider as these products get introduced to the commercial marketplace.
Attendees can expect to be prepped on FAA regulation rollout and unmanned aerial vehicle use.
For more information or to register for the webinar, visit the event website at b2bwebinars.net/unmanned or call 818-888-4444.
About B2B Webinars
B2BWebinars.net is a subsidiary of Information Forecast Inc., celebrating more than 25 years of successfully presenting industry defining events and webinars. B2Bwebinars.net (previously known as "Infocast" Webinars) provides the cutting-edge information and key intelligence that business leaders use to drive growth in the numerous industries that we serve.
Featured Product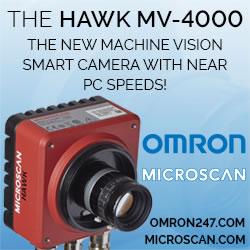 Space, or the lack of it, can be a challenge when placing barcodes or Data Matrix symbols on components. However, readable barcodes are critical to component traceability, time/date stamping, work in progress (WIP) tracking, and recall management. MicroHAWK UHD smart cameras can decode very small and difficult-to-read barcodes, including Data Matrix two-dimensional (2D) symbols and direct part marks (DPM). Users can rely on the MicroHAWK UHD to read symbols with an x-dimension almost invisible to the naked eye!