Products Made in USA Increases to 90% with Return of China Produced Products
FONTANET, Ind.--(BUSINESS WIRE)--Green Leaf®, Incorporated, a manufacturer of liquid handling products located in Fontanet, Indiana, announces that a number of its products being produced in China will return to be manufactured in America.

Many factors aided in Green Leaf's return to domestic manufacturing, including increased energy and labor costs abroad, which are making America a cheaper place to manufacture goods.
"We estimate around 70 products currently being manufactured in China will return here, bringing the total products being manufactured in the USA to nearly 90%," states Pete Goda, President of Green Leaf. "We are particularly excited to expand our Gator Lock® cam lever couplings in various sizes, giving us more control over one of our leading product lines."
Gator Locks® feature a locking mechanism and interchangeability that are unique to the marketplace. The spring mechanism provides enhanced safety that reduces the potential loss of chemicals, protecting the environment and the expense of replacing spilled chemicals.
"Bringing our products back to domestic manufacturing will increase jobs at our company and will give us more control over the entire production process," according to Pete Goda, President. "This will only improve the speed and accuracy of producing our top-quality proprietary components, and will allow us to pass the benefits of competitive pricing and distribution controls on to our customers."
In addition to celebrating the increased numbers of American made Green Leaf products, the company is also commemorating its 35th year in business with the introduction of a new brand and website.
"Our goal for the new website is to improve access for our customers and distributors, to provide a resource that engages individuals wanting to reference products online and connect by emailing or calling us," Pete concluded.
About Green Leaf, Incorporated
Green Leaf®, Incorporated began manufacturing products for the agricultural industry in 1979 and has grown to specialize in designing and manufacturing injection molded nylon and polypropylene liquid handling products. Keeping pace with technology, Green Leaf utilizes fully automated robotics in its manufacturing and the latest equipment in product marking and special packaging. Green Leaf products are available through various distribution networks and retail outlets.
Through its complete line of liquid handling products, which includes valves, cam lever couplings, fittings and sprayer components, Green Leaf continually strives to meet the current needs of customers, while anticipating their future needs. More about Green Leaf can be found at www.green-leaf.us.
Featured Product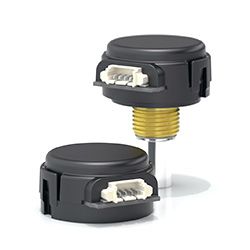 US Digital is pleased to announce the launch of the E4T, their latest series of miniature high performance optical encoders. The E4T series delivers a marked performance increase over similar encoder models and designed to be an enhanced replacement for the E4P encoder series. The E4T utilizes state of the art transmissive optical sensing technology, and incorporates US Digital's own proprietary OptoASIC. Assembly of the E4T is simple and efficient and retains the previous E4P's form factor. Key features of the new E4T include: • Mechanically and Electrically Interchangeable with E4P • Improved Quadrature Signal Strength • 100 kHz Frequency Response • Transmissive Optical Design • Collet Style Push on Optical Disk Design (Patent Pending) • Simple & Efficient Assembly Process As with all of our products the E4T is designed and manufactured in their Vancouver, Washington USA facility and is available for purchase as of December 2014.