The U.S. Navy, Northrop Grumman and its supplier team - including UTC Aerospace Systems - have been honored with the 2013 Robert J. Collier Trophy for the development of the X-47B, the first unmanned, autonomous air system operating from an aircraft carrier.
UTC Aerospace Systems content on the X-47B includes wheels and brakes; a number of sensors, including the air data pressure sensors; the power take-off shaft, which powers the Aircraft Mounted Accessory Drive (AMAD) gearbox; and backup electrical systems and the exterior lighting, which includes position lights, deck operator lights and taxi/landing lights.

In May 2013, the sleek, tailless aircraft made a catapult launch from USS George H.W. Bush and made history again two months later by being the first unmanned, tailless aircraft to make an arrested landing aboard a carrier.
"We are very proud to provide a number of key systems on the X-47B," said Gail Baker, UTC Aerospace Systems vice president, Aerospace Customers & Business Development. "Our company congratulates the U.S. Navy and Northrop Grumman for this extraordinary accomplishment."
The Collier Trophy is awarded annually by the U.S. National Aeronautic Association "for the greatest achievement in aeronautics or astronautics in America, with respect to improving the performance, efficiency, and safety of air or space vehicles, the value of which has been thoroughly demonstrated by actual use during the preceding year." It is named for Robert J. Collier, publisher of Collier's Weekly magazine, who was an air sports pioneer and president of the Aero Club of America.
UTC Aerospace Systems designs, manufactures and services integrated systems and components for the aerospace and defense industries. UTC Aerospace Systems supports a global customer base with significant worldwide manufacturing and customer service facilities.
United Technologies Corp., based in Hartford, Connecticut, is a diversified company providing high technology products and services to the building and aerospace industries.
Featured Product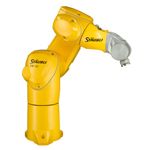 Stäubli offers a complete range of robotic tool changing systems for payloads of 20 kg to 1,530 kg and torsion moments from 30 to 12,500 Nm, designed for use in virtually every industry. The tool changers adapt to customer-specific applications with different modules for media, data, power, etc. The new MPS 130 robotic tool changer is powerful, very robust, and designed for a huge range of applications. It features multiple couplings for air/vacuum connections, and can be equipped with connectors for data and electrical transmission. Very compact dimensions, with a coupled height of only 67 mm, make the MPS 130 the first choice for applications requiring a high number of mating cycles.