Turnkey planar surface gantry for compact machines The compact gantry EXCM offers maximum coverage of its working space and is ideal for applications where every millimetre counts.
The compact gantry EXCM from Festo offers maximum coverage of its working space and is ideal for applications where every millimetre counts. It combines high functionality with a compact design and an attractive price/performance ratio.

The parallel kinematic drive concept ensures low moving masses. The recirculating toothed belt guides the slide within a two-dimensional area. The fixed motors are connected to the slide. At the same time, the pre-parameterised drive and controller package simplifies commissioning.
Optimum use of space
The gantry offers an optimum ratio between required installation space and working space and is ideal for very compact machines - installed without an external control cabinet directly on a worktable. The functional drive and controller package is standard on the EXCM-10 version. It is suitable, for example, for the automation of pre- and post-analytical laboratory processes. The plain-bearing guide makes the EXCM-10 very economical.
The drive and controller package is optional on the EXCM-30 version. Its main applications are in small parts assembly and handling or in electronics manufacturing and laboratory processes. Its precise and robust recirculating ball bearing guide is able to absorb large forces and torques, even at high speed.
Featured Product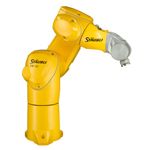 Stäubli offers a complete range of robotic tool changing systems for payloads of 20 kg to 1,530 kg and torsion moments from 30 to 12,500 Nm, designed for use in virtually every industry. The tool changers adapt to customer-specific applications with different modules for media, data, power, etc. The new MPS 130 robotic tool changer is powerful, very robust, and designed for a huge range of applications. It features multiple couplings for air/vacuum connections, and can be equipped with connectors for data and electrical transmission. Very compact dimensions, with a coupled height of only 67 mm, make the MPS 130 the first choice for applications requiring a high number of mating cycles.