Technology leaders collaborate to support robotics, autonomous vehicles and next generation factory automation
BRISTOL, England & MUNICH--(BUSINESS WIRE)--XMOS and Synapticon today announced a partnership that will dramatically accelerate the uptake of next-generation motion control technologies in the fast growing areas of robotics, smart factories and autonomous vehicles. The two companies are working together to support emerging trends such as Industry 4.0 in the $170bn factory automation market as well as the fast growing service robotics market.

"Synapticon is a leader in cyber-physical systems design: our companies have a longstanding partnership in this field. Now is the right time to broaden and deepen this relationship, which has already yielded impressive results, as we work to turn vision into reality."
The partnership includes joint development, support and marketing initiatives that will help designers combine multiple computational elements, sensors and actuators in a new category of applications often known as cyber-physical systems.
As part of the agreement, XMOS will market a range of development platforms based on Synapticon's SOMANET hardware and software modules. These products will allow embedded developers to realize a broad range of intelligent control tasks, ranging from simple and efficient BLDC motor control to sophisticated distributed real-time computing and control systems. Ultimately the companies plan to jointly provide single-chip silicon solutions and system-level intellectual property that will support the next generation of intelligent embedded devices.
The new partnership builds on the already strong relationship between the two companies, which has seen Synapticon base its complete range of SOMANET products on the xCORE range of multicore microcontrollers from XMOS.
"Initiatives such as Industry 4.0 and the move to embedded intelligence represent both an unprecedented opportunity, and a major challenge for the embedded design community," said Nigel Toon, President and CEO, XMOS. "Synapticon is a leader in cyber-physical systems design: our companies have a longstanding partnership in this field. Now is the right time to broaden and deepen this relationship, which has already yielded impressive results, as we work to turn vision into reality."
Nikolai Ensslen, CEO, Synapticon said: "xCORE is the pre-eminent programmable platform for designers working on demanding real-time embedded design. Synapticon's hardware and software are already delivering solutions to some of the most challenging design problems in the embedded market. Strengthening our ties with XMOS will not only allow us to forge ahead with new technology developments, it will also increase the reach and uptake of Synapticon products in the market."
The first product produced under the new partnership is available immediately via the worldwide XMOS network of representatives and distributors. It includes everything the designer needs to start designing BLDC motor control and motion control systems with xCORE and SOMANET.
About XMOS
XMOS is a young fabless semiconductor company based in Bristol, UK. The wide range of xCORE™ multicore microcontrollers with Hardware-Response™ provide a unique combination of parallel multitasking, deterministic performance, support from a large library of software-defined peripherals, allowing you to meet your exact design requirements. This makes xCORE multicore microcontrollers ideal for demanding embedded applications in audio, automotive, consumer and industrial products, where other microcontrollers struggle. XMOS provides xTIMEcomposer™ Studio, an easy to use development system, that makes it simple to design complex embedded systems.
For more information please visit www.xmos.com
About Synapticon
Synapticon is a young embedded systems company based in the region of Stuttgart, Germany. They specialize in hardware and software for sensor & actuator-intensive, internet-connected systems. Customers benefit from their cross-domain expertise through a range of customizable products and turn-key solutions for robotics, autonomous vehicles, smart industrial automation, special machinery and the internet of things. The Synapticon DYNARC platform for distributed computing & control comprises the vertical product lines SOMANET, NEOCORTEX and OBLAC. It enables developers of cyber-physical systems to easily configure, build and program a distributed computer for fully integrated actuator control, sensor data acquisition and high bandwidth data processing.
For more information please visit www.synapticon.com
Featured Product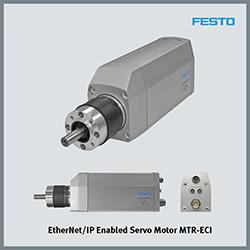 Mechatronic Motion Solutions from Festo is a unique system of components, modules, and software. It integrates all types of pneumatic, servopneumatic and (electro)mechanical automation motion and combines them according to your task. Irrespective of the control system environment you use, Mechatronic Motion Solutions always provides the appropriate interfaces. The fingers can be actively moved and their strength amplified; the operator's hand movements are registered and transmitted to the robotic hand in real time. The objectives are to enhance the strength and endurance of the human hand, to extend humans' scope of action and to secure them an independent lifestyle even at an advanced age.