CES to feature full ecosystem of latest 3D printers, services, software and technologies
Arlington, Va., June 17, 2014 - The Consumer Electronics Association (CEA)® today announced that the 3D printing footprint at the 2015 International CES® has doubled from the 2014 CES. Returning for its second year, the 3D Printing Marketplace, presented by TCT Magazine + Personalize, will feature more than 30 innovative companies showcasing the latest advancements in 3D printing technology. Owned and produced by CEA, the 2015 CES, the global gathering place for all who thrive on the business of consumer technologies, will run January 6-9, 2015 in Las Vegas, Nevada.

According to CEA's most recent U.S. Consumer Electronics Sales and Forecast report, sales of desktop 3D printers are expected to reach 67,000 units in 2014, earning $76 million in revenue, an increase of 43 percent over 2013. In total, 3D printing exhibits at the 2015 CES are expected to cover more than 14,000 net square feet of exhibit space, up from 7,200 net square feet at the 2014 CES.
"With huge advancements in digital technology, 3D printers are moving toward more compact units that are more suitable for consumers and capable of printing a variety of consumer goods, from toys and electronics to clothing, shoes and even food," said Karen Chupka, senior vice president, International CES and corporate business strategy, CEA. "The vast expansion of the 3D printing footprint at the 2015 CES speaks to the category's potential to become a major disruptor in the global economy, and confirms that CES is the platform to see the future of printing come to life."
The 3D Printing Marketplace will be located at CES Tech West. Tech West includes the Sands Expo (Sands), The Venetian and Wynn/Encore exhibits. Major exhibitors located within the 3D Printing Marketplace include: 3D Systems, Autodesk, MakerBot, Materialise, Stratatys and XYZ Printing. CES Tech West will also feature leading companies and the newest innovations in lifestyle technologies, including fitness and health tech, the Internet of Things, sensors, startups and other high growth technologies changing the way we work, live and play.
The 2015 CES will feature 20 category-specific Marketplaces highlighting innovation across 20 different product areas. Companies interested in exhibiting in the 3D Printing Marketplace should contact Aurelie Cornett at ACornett@CE.org or 703-907-5245.
The 2015 CES will also feature conference sessions targeting 3D printing technology. More information will be available online this fall.
Registration for the 2015 CES will open on Tuesday, July 8. For more information on the 2015 CES, visit CESweb.org.
Note to Editors: The official name of the global technology event is "International CES®." Subsequent references to the event can be shortened to "CES."
About CES:
The International CES is the world's gathering place for all who thrive on the business of consumer technologies. It has served as the proving ground for innovators and breakthrough technologies for more than 40 years—the global stage where next-generation innovations are introduced to the marketplace. As the largest hands-on event of its kind, CES features all aspects of the industry. And because it is owned and produced by the Consumer Electronics Association (CEA), the technology trade association representing the $208 billion U.S. consumer electronics industry, it attracts the world's business leaders and pioneering thinkers to a forum where the industry's most relevant issues are addressed. Follow CES online at www.CESweb.org
Featured Product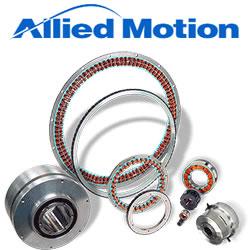 Allied Motion's Megaflux MFH170i series of 170 mm (6.7 in) diameter housed brushless torque motors consists of a high performance brushless DC torque motor, a digital servo drive, and an optical encoder, all integrated into a rugged machined aluminum housing with robust duplex bearings. The MFH0170i series features a 63.5 mm (2.5 in) large-bore through shaft, and is characterized by a very high torque-to-inertia ratio. There are three stack lengths in the series with peak torque ranging from 8.5 up to 16.9 Nm (75 up to 150 lb-in). The standard winding voltage is 48 V. And to ease the hassle of long leadtimes for prototypes, the new MFH170i is now available through our QuickShip program.