LASER COMPONENTS now manufactures avalanche photodiodes with fiber pigtails.
With a semiautomatic assembly unit, the fibers can be adjusted exactly to

within a few μm and thus achieve coupling efficiencies of almost 100%. The
pigtailing technology is very flexible - almost any combination of APD and
fiber can be implemented: all optical fibers with a core diameter of < 600 μm can be combined with our APDs in a TO-46 housing.
The advantages of fiber coupling are obvious: in medical technology or
analytical measurement technology, it is often not ideal to have the
detector close to the area of measurement; in photon-counting applications,
it is possible to shield disruptive signals with the help of an opaque fiber
jacket; in industry, data is transmitted across very long distances via
optical fibers.
On a standard basis LASER COMPONENTS offers the SAP-series Geiger-mode APDs and the particularly low-noise IAG-series InGaAs APDs. Hermetically sealed
and with high mechanical durability, these APDs exceed the requirements of
the Telcordia GR-468 standard. The development of APDs according to customer
specifications is inexpensive and possible at any time.
Featured Product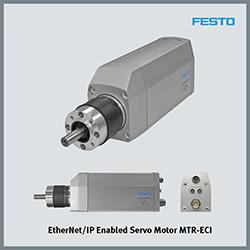 Mechatronic Motion Solutions from Festo is a unique system of components, modules, and software. It integrates all types of pneumatic, servopneumatic and (electro)mechanical automation motion and combines them according to your task. Irrespective of the control system environment you use, Mechatronic Motion Solutions always provides the appropriate interfaces. The fingers can be actively moved and their strength amplified; the operator's hand movements are registered and transmitted to the robotic hand in real time. The objectives are to enhance the strength and endurance of the human hand, to extend humans' scope of action and to secure them an independent lifestyle even at an advanced age.