New modules connect industrial devices to the Cloud for wireless interoperability
Sensors Expo 2014

SAN MATEO, Calif. & ZARAGOZA, Spain--Libelium has released new industrial protocol modules and API libraries for Waspmote sensor nodes that allow sensor information from industrial devices to connect to the Cloud. The new modules support the most widely used industrial communication network protocols (RS232, RS485, CAN Bus, Modbus) for process or industrial automation, building automation, military and automobile applications, for sensor network capability in remote or factory floor environments.
In addition to Waspmote, Libelium's industrial protocol modules connect with general development platforms such as Arduino, Intel Galileo, and Raspberry Pi, to help developers design industrial Internet of Things (IoT) solutions with quick prototyping of in-the-field projects. In conjunction with the new modules, Libelium has released a special sensor board to connect 4-20mA sensors (current loop)—the most commonly deployed in industrial environments.
Libelium's products and IoT sensor solutions will be demonstrated at Sensors Expo & Conference, booth #814, June 24-26, 2014 at the Donald E. Stephens Convention Center in Rosemont, Illinois.
"We recognize that successful industrial IoT solutions need the right tools to address the special considerations of the industrial world such as interoperability, reliability and scalability," said David Gascón, CTO at Libelium. "Designed for the IoT, Waspmote is a multi-protocol networking platform capable of covering any aspect of an industrial environment using IP all the way to the end device."
For more information: http://www.libelium.com/new-industrial-protocols-modules-connect-waspmote-rs232-rs485-can-bus-modbus-4-20ma
About Libelium
Libelium designs and manufactures hardware and APIs for wireless sensor networks so that system integrators, engineering, and consultancy companies can deliver reliable Internet of Things (IoT), M2M and Smart Cities solutions with minimum time to market. Waspmote—Libelium's open wireless sensor platform—is modular, easy to deploy and ready to integrate with third-party Cloud systems such as Axeda, Esri, ThingWorx, or MQTT. Over 2,000 developers from 75 countries in companies ranging from startups to universities to large international corporations have adopted Libelium's technology for projects in North America, Australia, Asia and Europe. Commercial deployments based on Waspmote include applications as varied as parking, traffic congestion, environmental monitoring, and precision agriculture. Gartner Inc., named Libelium a Cool Vendor in 2014. Established in 2006, Libelium is privately held and has headquarters in Zaragoza, Spain. www.libelium.com
Featured Product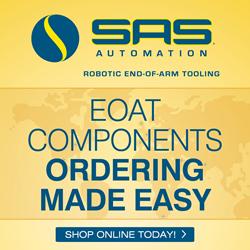 SAS Automation's complete line of modular components allows you to rapidly build your end-of-arm tools in your own plant, meeting your ever-changing automation needs on-demand. And with our newly enhanced Online Shopping Cart, it's never been easier! IT'S SHOPPING MADE SIMPLE, with features like: • Responsive Design so you can access anytime -- desktop, tablet or phone -- with ease • CAD Model Access with 3D Software Integration • Order History • Saved Quotes • Tool Builder • Product Comparisons • Enhanced Search • Social Media Sharing • Product Reviews