Ocean Aero is designing an unmanned surface vehicle that will also have the ability to descend subsea.
THOUSAND OAKS, Calif. - July 2, 2014 - Teledyne Technologies Incorporated (NYSE:TDY) announced today that it has invested in and entered into a strategic partnership with Ocean Aero, Inc. Based in San Diego, Calif., Ocean Aero is designing an unmanned surface vehicle that will also have the ability to descend subsea. Terms of the transaction were not disclosed.

Unlike traditional unmanned surface vehicles or autonomous underwater vehicles (AUVs), Ocean Aero is designing the Submaran, a vehicle capable of operating in both surface and sub-surface environments. While still in development, the Submaran would provide a unique set of capabilities to the scientific, defense, and oil and gas communities. For example, the vehicle would have efficient propulsion and communication while on the surface, and the ability to dive could provide water column analysis, stealth and hazardous weather avoidance.
"The investment in Ocean Aero further broadens Teledyne's portfolio of marine technologies and autonomous systems," said Robert Mehrabian, Chairman, President and Chief Executive Officer of Teledyne. "Ocean Aero's planned unmanned underwater/surface vehicles, powered by wind and solar, complement Teledyne's battery-powered Gavia AUVs and market-leading autonomous gliding vehicles using buoyancy-based propulsion."
Teledyne Technologies is a leading provider of sophisticated instrumentation, digital imaging products and software, aerospace and defense electronics, and engineered systems. Teledyne Technologies' operations are primarily located in the United States, Canada, the United Kingdom, and Western and Northern Europe. For more information, visit Teledyne Technologies' website at www.teledyne.com.
Featured Product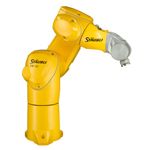 Introducing the TP80 Fast Picker, a new series that delivers speeds in excess of 200 picks per minute, and more flexibility at a lower cost. Stäubli has long set the standard for high speed and precision in robotic performance, ensuring the highest possible throughput and shortest cycle times.