Honeywell is using the Seegrid AGVs to transport raw materials such as copper coils, cables, and wire spools to manufacturing and deliver the finished goods to the warehouse.
PITTSBURGH, PA—Honeywell, located in Pleasant Prairie, WI, recently installed Seegrid automated guided vehicles (AGVs)—GP8 pallet trucks. Honeywell is using the Seegrid AGVs to transport raw materials such as copper coils, cables, and wire spools to manufacturing and deliver the finished goods to the warehouse.

Michael Crichlow, Cable and Custom Electronics Logistics Manager, at the Pleasant Prairie Honeywell location explained, "We are using the Seegrid GP8s to enhance the capabilities of my professional material handling staff by providing them another set of forks to complete the cross-plant moves. The AGVs will allow me to use my material handlers for the more precise placements and technical moves throughout the manufacturing floor and distribution center. This is accomplished by eliminating empty fork time as the material handlers move from one task to the next."
Crichlow also noted that the Seegrid AGVs offered more flexibility versus traditional AGVs, which require lasers, wires, tapes, or magnets. "I chose this technology because of the flexibility of being able to reprogram the vehicles quickly as we frequently change layouts. The "permanency" of the laser reflectors, magnets, and strips just wouldn't be practical in our constantly improving work space."
Seegrid AGVs enable Honeywell to eliminate "empty fork time"—traveling cross-facility to make a delivery with no return load. "Three dynamic results are expected with the Seegrid AGVs at the Honeywell facility including, an increase in cases picked per labor hour metric, increased support level for production operations, and improved material flow and 5S adherence," remarked Crichlow.
About Seegrid
Seegrid Corporation (www.seegrid.com) is the global leader of robotic vision-guided automated guided vehicles (AGVs). Seegrid AGVs are revolutionizing the movement of materials handling in manufacturing and distribution environments with simplicity, flexibility, and affordability. Robotic pallet trucks, tow tractors, and walkie stackers optimize workflow processes by increasing productivity and reducing labor and operating costs, creating economic and operational advantages. Seegrid AGVs improve workplace safety, reduce equipment and product damage, and deliver a rapid return on investment. The company's state-of-the-art navigation technology requires no infrastructure for navigation—no wires, lasers, tapes, or magnets.
In addition to the 2014 Edison Award, Seegrid was named Manufacturer of the Year and the Food Logistics Top 100 software and technology providers. Follow on Twitter @Seegrid.
Featured Product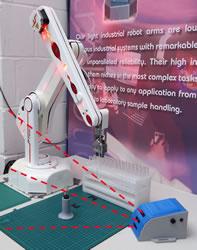 The 6-axis version of the R17HS high speed variant of the R17 robot is now available. As is our policy the 6th axis is an optional bolt-on module. At the same time we have made it even faster and new software eliminates shake and greatly improves repeatability as this video shows. Please see https://www.youtube.com/watch?v=3wG0MeiJ-yE. The video would seem to imply a repeatability of 0.01mm but we are sticking with 0.2mm in the spec. The motor specialist was able to tune the motors from the other side of the pond. My first reaction when we put power on and entered the first commands was to jump back in amazement (and maybe an expletive). Tip speed is now 3m/s; that's 3 times as fast as its nearest competitor yet costs half the price. I love it when a plan comes together.