Kratos Defense & Security Solutions, Inc., a leading National Security Solutions provider, announced today that its Advanced Drones & Target Systems Division (KADTS) recently received a new $4.2 million contract award to provide unmanned aerial drone system aircraft and related spares to a National Security customer.
Kratos is a leading provider of unmanned aerial systems, drone aircraft, command and flight control systems, avionics and related electronics. Kratos is also a leader in unmanned ground and seaborne systems, technology, avionics, electronics and unmanned vehicle command and control systems. KADTS will produce the aircraft at a secure Kratos manufacturing facility. Due to customer related and other considerations, no additional information will be provided related to this contract award.

Wayne Armstrong, President of KADTS, said, "We are pleased to have received this new contract award from this important long-standing customer."
Featured Product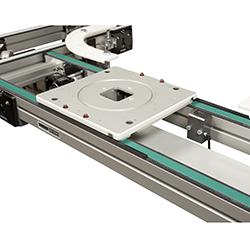 Dorner's 2200 Series Precision Move Pallet Systems feature the latest advancements in pallet traffic management. A unique pin tracking system guides pallets through merges and curves while maintaining product orientation. The fast belt change capability increases efficiency and reduces downtime in assembly automation processes. They are available in lengths up to 25 ft., can handle loads up to 500 lbs. and travel at speeds up to 114 ft/min.