Stratasys expects to complete its acquisition of Harvest Technologies by the end of July.
MINNEAPOLIS & REHOVOT, Israel - July 15, 2014 - Stratasys Ltd. (NASDAQ: SSYS), a leading global provider of 3D printing and additive manufacturing solutions, today announced the completion of its previously disclosed acquisition of Solid Concepts.

Stratasys announced the acquisitions of Solid Concepts and Harvest Technologies on April 2, 2014, and will combine Solid Concepts and Harvest Technologies with RedEye, its existing digital manufacturing service business, to establish one additive manufacturing services business unit. Stratasys expects to complete its acquisition of Harvest Technologies by the end of July.
David Reis, chief executive officer of Stratasys, stated, "We look forward to enhancing our customer offering with the completion of this transaction. With Solid Concepts' deep knowledge of manufacturing and vertical focus, such as medical and aerospace, Stratasys will be even better positioned to meet our customers' evolving additive manufacturing requirements. We are delighted to welcome the talented employees of Solid Concepts to the Stratasys family and look forward to completing the acquisition of Harvest in order to form a leading strategic platform to better meet customers' needs."
Stratasys expects to update its financial guidance to reflect both the Solid Concepts and Harvest transactions in conjunction with its second quarter 2014 financial results.
Featured Product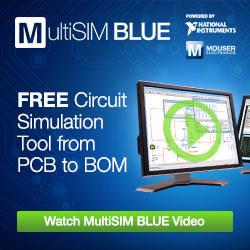 Powered by NI, MultiSIM BLUE Upgrade includes schematic capture, simulation, PCB layout, BOM-to-cart capabilities using only one tool. No more switching between different programs for circuit design. Perform MCU co-simulation. New voltage, current and power probes as well as faster active analysis mode are also available. Plus, it even comes with an expansive database of new components from industry-leading manufacturers. Discover why EDN named MultiSIM BLUE a HOT 100 Product of the Year.