Protium rapid prototyping platform features flow compatibility with Palladium platform, shortening bring-up time by up to 70 percent versus competitive solutions ----New Protium rapid prototyping platform increases capacity by 4X over the previous generation ---- Palladium XP II verification computing platform now features IEEE 1801 support for improved low-power verification
SAN JOSE, Calif., July 17, 2014 -- Cadence Design Systems, Inc. (NASDAQ: CDNS), a leader in global electronic design innovation, today announced an expansion of its System Development Suite with the addition of the new Cadence® Protium™ rapid prototyping platform for improved software development productivity, and IEEE 1801 low power standard support in Cadence Palladium® XP II verification computing platform. These expansions to the Cadence System Development Suite enable system and semiconductor companies in the mobile, consumer, networking and storage segments to efficiently address important design challenges such as early software bring-up and reduced power consumption.

Built using Xilinx® Virtex®-7 2000T FPGAs, the Protium platform is Cadence's second-generation FPGA prototyping platform for software development. It improves productivity by reducing prototype bring-up time by up to 70 percent versus competitive solutions, shortening the process from months to weeks. Featuring Palladium flow compatibility, a 4X increase in capacity versus the previous generation, and support for up to 100 million gates, the Protium platform enables software development and throughput regressions supported by a fully automatic flow and the capability to execute user-driven performance optimizations. The Protium platform also provides automated memory compilation, external bulk memory support, and RTL name preservation throughout the flow, which minimizes the tedious and error-prone manual FPGA bring-up steps, thereby speeding up time to market.
"The ability to use the same bring-up flow for Palladium emulation and Protium rapid prototyping, allows our design teams to switch seamlessly between the two execution engines, which reduces the prototype bring-up time from months to weeks compared to traditional FPGA-based prototyping approaches," said Hideya Sato, deputy executive general manager, Global MONOZUKURI Division, Information & Telecommunication Systems Company, Hitachi, LTD. "Additionally we expect to improve overall development productivity by extending the use of Protium rapid prototyping platform to the area of hardware/software co-verification."
"The growing need for software and hardware verification continues to drive the use of FPGA-based ASIC prototyping, from emulation and prototyping to mass production applications," said Arun Iyengar, vice president, A&D, ISM and TM&E markets for Xilinx. "Cadence's approach to unify hardware verification using Palladium emulation and software development using Protium prototyping will further streamline the customer's time to market while improving product quality."
Low-power analysis and verification is a key part of system and system-on-chip (SoC) signoff criteria. Addressing this, Cadence has expanded the Dynamic Power Analysis in the Palladium XP II platform beyond Common Power Format (CPF) support, adding verification and debug support for the IEEE 1801 standard. The Cadence System Development Suite now offers an integrated and consistent low-power flow for engineers using either of the power standards across the Incisive® formal and simulation and Palladium platforms, with common power plan and metrics, and integrated debug analysis.
For more information about the Protium rapid prototyping platform, low power support in the Palladium XP II platform, and the Cadence System Development Suite, visit www.cadence.com/news/protium.
Featured Product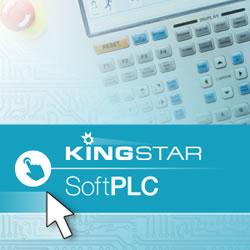 The top machine builders are switching from proprietary hardware-based PLCs, like Allen-Bradley, TwinCAT, Mitsubishi and KEYENCE, to open standards-based EtherCAT-enabled software PLCs on IPCs. KINGSTAR provides a fully-featured and integrated software PLC based on an open and accessible RTOS. KINGSTAR Soft PLC also includes add-on or third-party components for motion control and machine vision that are managed by a rich user interface for C++ programmers and non-developers alike.