Logitraxx is an FPGA based Do-it-Yourself robot learning kit for engineers and enthusiasts.
Chandler, Az July 17, 2014

Engineering Services Company SL Interphase, LLC launches a Kickstarter campaign for its first robotic kit called "Logitraxx." A first of its kind all FPGA based robotic system designed to instruct and demonstrate the fundamentals of FPGA based intelligent robotic systems.
The kit is primarily designed for engineers and enthusiasts within the do-it-yourself (DIY) community to help learn the fundamentals of FPGA development for robotic use. FPGAs can enhance the processing capability of computer systems up to hundreds of times faster than a non-FPGA based system making it possible for a much smarter robot.
However, FPGAs are still widely unknown within vast parts of the high tech community as they can be difficult to implement. The language used to develop FPGAs can also be challenging to learn as well. Logitraxx is designed primarily as a learning tool to help overcome these barriers and uniquely engineered to help with learning the fundamentals of FPGA design and hardware based sensor control.
Logitraxx is an open source design under the Creative Commons Attribution-Share-Alike 4.0 International License. Schematic and board drawing information will be provided at product release as well as sample code blocks driving similar types of sensors already widely popular with software based systems.
SL Interphase is an electronic design services company specializing in product development for commercial, industrial, and defense industries. We are also specialized in rugged electronics development for extreme environments. At SLI, we can handle all aspects of the development cycle from concept to production.
For information visit our website http://www.sl-interphase.com
or email us at info(at)sl-interphase(dot)com
Featured Product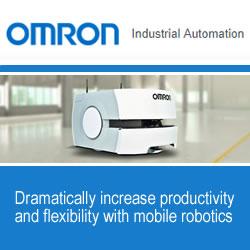 The Omron Adept Lynx Cart Transporter is an Autonomous Intelligent Vehicle (AIV) designed to attach to movable carts and transport them from a pickup location to a drop off location. Applications include line-side inventory replenishment, moving flow racks, transporting Work in Progress (WIP) between process steps, and moving finished goods to the warehouse. The Lynx Cart transporter leverages Natural Feature Navigation to autonomously find a path through the facility without the need for any facility modifications necessary.